Ho Chi Minh City Police February 24 reviewed two years of the program 'to learn and follow Ho Chi Minh's moral example' and its contribution to the lives of its officers.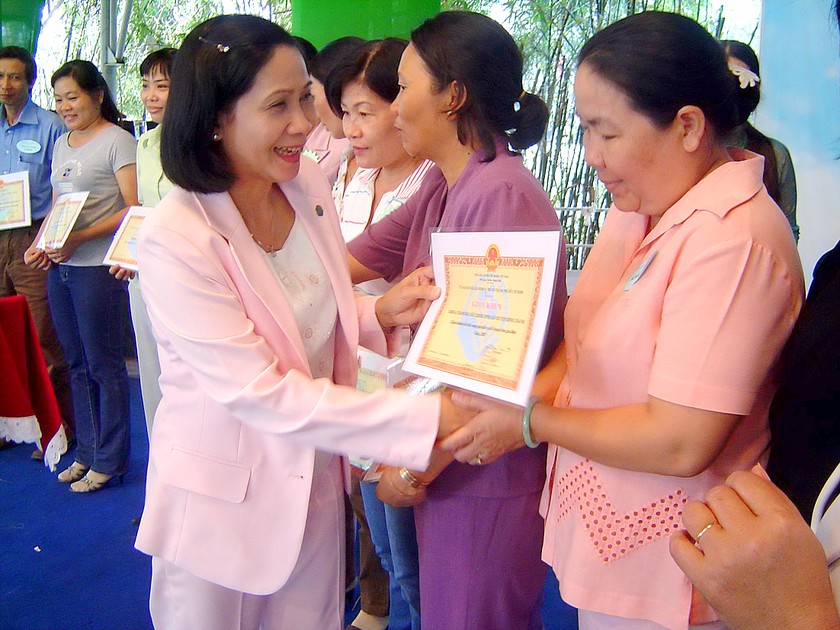 Deputy Chairwoman of HCM City People's Committee Nguyen Thi Thu Ha awards a certificate of a merit to a woman for the program 'learn and follow HCM's moral example' February 24. (Photo: SGGP)
In last two years, all police officers and officials have studied special subjects relating to HCM's morality, with 89 percent reporting they have gained a positive moral outlook in the lives.
155 teams and over 2,000 individuals have improved their professionalism and achieved job satisfaction.
3,040 officers and officials refused bribes totaling VND280 million ($16,000).
The city police have also put into practice efficiency drives with billions of dong saved in slow bureaucracy and waste.
The city's police were vey positive in reforming administration and working methods and applying IT to better serve people.
The city police force will continue the moral lead this year with the theme 'HCM's thoughts and moral example in enhancing a sense of responsibility and serving the country and people with heart.'
The same day, reporting at a conference to wrap-up two years of the program 'To learn and follow HCM's moral example,' the HCM City Women Union said that the program had been a positive activity for officials and members of the Union.
They have step-by-step changed their lifestyle by taking actions in normal life.
The Union also helped the program 'Each member contributes,' with such activities as saving water, electricity, and office supplies.
In 2008, the Union saved over VND920 million ($54,000).
Over VND2 billion ($114,000) was collected from the piggy banks and VND66 million ($4000) from saving otherwise wasted materials.
The Union also delegated some officials to houses with lonely and infirm elderly people to help them renew lost or damaged ID cards.
The Union commended 16 teams and 28 individuals in learning and following HCM's moral example.