The city has plenty of talented people willing to contribute to its development but is yet to tap them due to a lack of proper mechanism, People's Council chairwoman Pham Phuong Thao has said.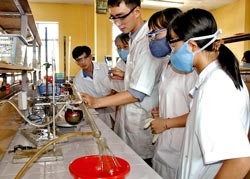 HCM City University of Technology's  students in a chemical lab (Photo: SGGP)
She was speaking at a program titled "How to involve talents in economic management to boost the city's growth?" held by the People's Council and Ho Chi Minh City Television (HTV) on December 7.
Phan Kim Ngoc, head of the University of Natural Sciences' Stem Cell Research and Application Lab, concurred, saying, "Our city has a large 'mine' of intellectuals but the exploitation of that mine has not been optimal due to a lack of policies to make the best use of it."
"Those who are engaged in science generally look for honor and responsibility, not money. But our regulations disconcert talented people picked for training," he said.
For instance, trainees have to have a permanent residence in the city, work for a city agency, and have to undertake to work for the city upon graduation, he pointed out.
This offends them, he said, suggesting the regulations should be abolished.
Dr. Nguyen Quoc Binh, deputy director of the HCM City Biotechnology Center, said: "Doctoral training should be aimed more at people involved in scientific research than in management. If we need managers, we should open MBA courses."
Human resource development policies should match society's needs, he added.
A representative of the HCM City Union of Scientific and Technical Associations said opening new training courses is important but so is making the best use of existing scientists.
"It appears the city is baffled when it comes to making policies to attract talent," the representative commented.
Pham Khanh Phong Lan, deputy director of the city Department of Health, said, "It is not reasonable to expect intellectuals to make sacrifices while living on low salaries."
Ms. Thao said the city is carrying out a program on intellectual training but its financial outlay remains modest, at just 2 percent of the total budget. She promised to increase it.
Pham Duc Hai, deputy head of the city Party Committee's Commission of Propaganda and Training, said government agencies have been instructed to submit a plan for hiring talented people by June next year, including incentives for them and a negotiable salary system.
To implement the plan, schools, businesses and even the public should be involved, he said.