To identify the reasons and carry out effective solutions, leaders of export processing and industrial zones in Ho Chi Minh City joined a meeting on April 11 presided over by Vice Chairman of HCMC People's Committee Nguyen Thien Nhan.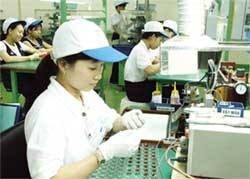 Electronic component production at Tan Thuan Export Processing Zone.
Speaking at the meeting, most leaders agreed that new investment projects are currently small in size and not performed in accordance with the city's direction in its economic structure shift.
Besides, the major reasons for these shortcomings are the sluggishness in land fund of Ho Chi Minh City, the higher land rent compared with that of other nearby areas and the poor quality and low quantity of workers.
Particularly, many industrial zones have not started to construct their waste disposal central factories, while some others even failed to run their own local waste disposal systems effectively.
According to Mr. Nhan, the zones should promptly take its implementations and adjustments in the restructuring program, aiming at making a sound plan for popularization and attraction of investment capital in future.
Also, the vice-chairman called on infrastructural investors to show their responsibilities for supervising their enterprises' performance in dealing with waste disposal and environment protection.
Deadline for industrial zones to begin their waste disposal central constructions is December, 2006.