To date, 119,200 non-local residents have been granted household registers (ho khaus) that grants official permission to live in Ho Chi Minh City.  This was reported by senior lieutenant-colonel Vo Van Nhuan, head of the HCMC Administrative Management of Social Order Police (PC13) yesterday.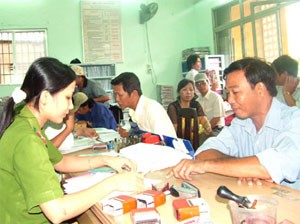 Non-local residents apply for ho khaus at a police station

Mr. Nhuan revealed that the police have so far received over 170,000 non-local residents' applications for residency; of which, 119,200 have been approved. 
Among the 119,200 non-local residents granted with residency, approximately 84,000 have already had their own legitimate residential places in the city for more than one year, over 29,000 are permitted to live in houses owned by local residents, more than 2,000 state officials living in other cities and provinces who have been appointed to a post in the city and the other 4,000 used to be local residents, yet left the city to live in elsewhere, but  are now applying for residency in HCMC so that they can  settle down here again.
According to the Law of Residence, one of perquisite conditions for a non-local resident to be granted with residency in a city or province is that he must have a legitimate residential place in the city or province and have lived there for one year.
In the event of a non-local resident applying for residency in order to officially reside in a hired house, or in a house where he or she is allowed to live with the owner who is a local resident, the applicant must obtain the house owner's consent in writing.