The HCM City–Long Thanh–Dau Giay expressway opened to traffic yesterday and aims to ease traffic congestion and improve connectivity between HCM City and the southeastern and Central Highlands provinces.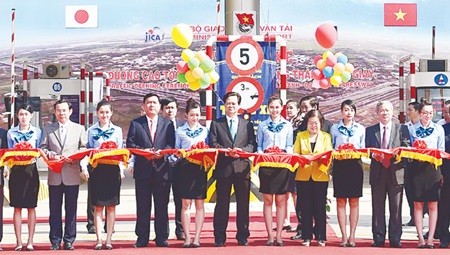 Prime Minister Nguyen Tan Dung cuts the ribbon to open the HCM City-Long Thanh-Dau Giay expressway yesterday (Photo: VNA/VNS)
The 55-km four-lane expressway from An Phu Intersection on Mai Chi Tho Highway in HCM City to Dau Giay Intersection in Dong Nai Province has a speed limit of 80-120km/hr, depending on the section.
It was built at a cost of VND20.63 trillion (US$945.68 million) using JPY60.136 billion ($640.3 million) in Japanese ODA, $276.8 million in ADB loans and Vietnamese reciprocal capital.
The road features an Intelligent Transportation System for traffic management and toll collection using advanced Japanese technology. It also cuts the distance from HCM City to neighbouring provinces, reducing the 45km drive to Long Thanh District to a mere 22km and the distance to Vung Tau from 120km to 95km.
This will reduce transport costs by 20-30 per cent, according to the Ministry of Transport, in addition to meeting the growing demand for transport on Highways 1 and 51 in the direction of Vung Tau.
To complete the road, around 437 ha were cleared, affecting 1,990 households.
Speaking at the opening ceremony, Prime Minister Nguyen Tan Dung stressed the importance of this part of the North-South Expressway, saying development of road infrastructure played a key role in the country's socio-economic development, particularly National Road 1, Ho Chi Minh Road and the North-South Expressway.
Dung urged the investor, the Viet Nam Expressway Corporation, to complete all the remaining works to make the expressway one of the country's most modern.
The country now has 580 km of expressway and will have 700 km by the end of this year when the Ha Noi – Hai Phong Expressway and the Lao Cai – Dong Hung Border Gate (China) section are complete.
Gas processing plant
On Saturday, PM Dung attended the launch ceremony for construction of a gas processing plant in the Ca Mau Gas-Electricity-Fertiliser Complex in the southernmost province of Ca Mau.
The facility will have a daily capacity of processing 6.2 million cu m of natural gas from gas fields in the southwestern region. It aims to diversify high-value oil and gas products in the region, ensure national energy security and contribute to local socio-economic development.
Speaking at the launch ceremony, Dung acknowledged efforts by the Viet Nam Oil and Gas Group (PetroVietnam) to start construction of the plant and welcomed the safe transport of 10 billion cu m of natural gas from the PM3 – Commercial Arrangement Area.
He urged the group to work hard to open the plant, which is expected to generate over VND5 trillion ($238 million) in annual production value once completed by the end of 2016.
The plant is part of a project worth over VND10 trillion ($476 million), which also includes installing additional offshore pipelines to increase the transport capacity of the PM3-Ca Mau gas pipeline network from 5.8 million cubic meters to 6.95 million cu m per day; building a storage system of 8,000 tonnes of liquefied gas and 3,000 cu m of condensate; and building a port system for liquid exports at U Minh District's Khanh An Industrial Park.
The nearly $300 million PM3-Ca Mau gas pipeline currently brings ashore 6.25 million cu m a day, a remarkable rise from its initial capacity of 5.47 million cu m of gas. It is able to supply sufficient gas for two power plants to generate around 8 billion kWh of electricity and a fertiliser plant to produce 800,000 tonnes annually.
By 2014, the Ca Mau Gas Company provided over 10.86 billion cu m of gas, enabling the power and fertiliser plants to produce over 50 billion kWh of electricity and 2,000 tonnes of fertiliser, respectively accounting for 7 percent and 40 percent of the country's total.
Bridges open
Prime Minister Dung inaugurated four bridges along the Ho Chi Minh Highway in the southernmost province of Ca Mau on Saturday.
Nam Can Bridge is over 800 metres long, Cai Tat Canal Bridge is 440m, Sau Nan Bridge is 175m and Trai Luoi Bridge is 240m. All of them are 12 metres wide.
Spanning Cua Lon River to link the Lam Hai Commune in Nam Can District with Vien An Commune of Ngoc Hien District, Nam Can is the biggest of the four bridges in this section of Ho Chi Minh Highway Project.
Nam Can Bridge cost VND650 billion (US$30.5 million) and took 18 months to build. All four are in an 8.1km section of the highway from Nam Can Bridge to Nam Can town that is scheduled to be fully finished by the end of this year.
Dung said the bridges would make Ca Mau people's dream of "passing rivers and canals without taking a boat" come true.
They would pave the way for faster and more sustainable development of Nam Can and Ngoc Hien districts, thus contributing to improving locals' living standards and national security, he said.
New expressways
Cuu Long Corporation for Investment, Development and Project Management of Infrastructure (Cuu Long CIPM – under the Ministry of Transport) started work on Trung Luong – My Thuan Expressway on Saturday. The road connects HCM City and Trung Luong Expressway.
The Trung Luong – My Thuan section will be 51.1km with a speed limit of 100km, four intersections and five overbridges.
The consortium will invest VND14.678 trillion (nearly US$690 million) into the BOT (Built-Operate-Transfer) project, recouping the investment with 20 years of toll collection. The investor also has the right to collect tolls on the HCM City – Trung Luong Expressway for 11 years, beginning in 2018.
The VND19 trillion (nearly $900 million) project was originally handed over to the Bank of Investment and Development of Viet Nam Expressway Development Co (BEDV), and the groundbreaking ceremony was held in 2009. However, the project was returned to the Transport Ministry in 2011 because BEDV could not arrange capital for it. Cuu Long CIPM was then appointed to manage the project and seek capital from non-state sectors.
The Trung Luong – My Thuan Expressway section will help ease pressure on National Highway 1A and halve the two-hour drive from HCM City to My Thuan, according to Duong Tuan Minh, Cuu Long CIPM General Director.
The HCM City – Trung Luong and Trung Luong – My Thuan sections are part of the three-section HCM City – Can Tho Expressway, which aims to reduce travel time between HCM City and Mekong provinces and thus boost socio-economic development of the Mekong Delta. The 40km HCM City – Trung Luong Section opened in February.
About 27,000 automobiles operate on the HCM City – Trung Luong Expressway section per day, accounting for 60 per cent of the expressway's capacity, Minh said.