The New Rural Development Program has been implemented in Ho Chi Minh City for six years and achieved good results. Accordingly, average income for rural citizens in the city was accounted for over 80 percent of urban citizens' income in 2014, said the city Party Committee Secretary Le Thanh Hai at a conference on March 2.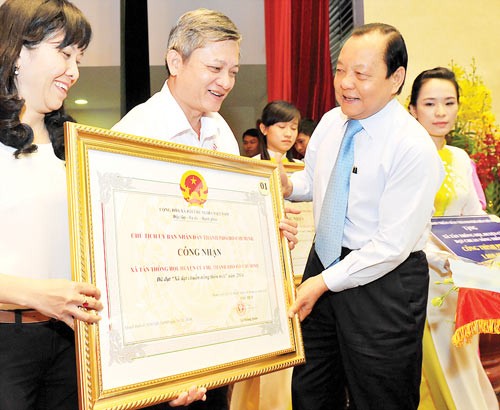 HCMC Party Committee Secretary Le Thanh Hai gives a new rural certificate to representative of Tan Thong Hoi Commune, Cu Chi District on March 2 (Photo: SGGP)
A rural citizen earned VND1.3 million per month in 2008, accounting for only 55.4 percent of urban citizen's income.

Hi-tech application in agricultural production has doubled production value in 2010 to reach VND325 million per hectare in 2014.

Mr. Hai said that the program aimed to improve residents' spiritual and material life in rural areas.

A total of twenty seven out of 56 communes under the program have met all 19 new rural norms under the program. The rest 29 communes have fulfilled an average of 17 norms. Nha Be is the first new rural district in HCMC.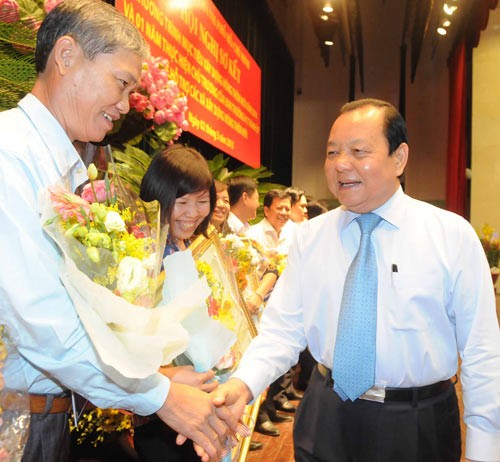 Secretary Le Thanh Hai congratulates communes on winning new rural titles in 2014 (Photo: SGGP)
The city has set a target to improve all 56 communes into new rural areas on the occasion of the country's Reunification Day, April 30.

The program has built and upgraded over 754 kilometers of new roads, 320 irrigation works, 42 markets, 24 health clinics and 133 schools. It has also rebuilt or removed 2,800 temporary houses in five districts.

Deputy Minister of Agriculture and Rural Development Tran Thanh Nam said that HCMC is likely to obtain its target of becoming the first locality in the country completing the New Rural Development Program.

The city has reached three key matters of the program including planning, production development and ecological environment.

At present, HCMC leads the country in urban production modals of flowers, safe vegetables, dairy and ornamental fish farming. These modals have brought farmers few hundreds to a billion of dong per hectare per year.

Local authorities have mobilized social capital sources; assisted interest rate to effectively implement the program. This way has been extended to many provinces and cities throughout the country.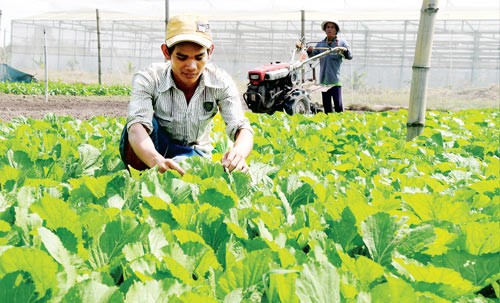 Vegetable farming under VietGap quality for the price subsidization program at Tho Viet Cooperative, Cu Chi District, HCMC (Photo: SGGP)
According to Mr. Nam, the Government is set to increase the quality of new rural norms as a total of 800 communes nationwide have met standards of the program. They would pay heed to rural environment.

At the conference, HCMC gave each new rural commune VND1 billion. If all 56 communes fulfill the program on April 30 as schedule, the city will present districts, where the communes are located, with VND20 billion each to build social welfare works.

Seventy five teams and individuals well performing the program were awarded at the event.