Two Royal New Zealand Navy ships, HMNZS Te Kaha and HMNZS Endeavour, wrapped up their goodwill visit to Viet Nam on Wednesday after five days at anchor at Saigon Port in Ho Chi Minh City.
In return for the official welcome ceremony by the host city on Saturday, a reception was held on the Te Kaha on Tuesday night to welcome representatives from the Ho Chi Minh City People's Committee, the Vietnamese Navy and diplomatic corps.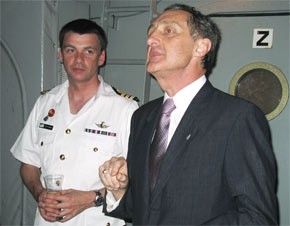 Ambassador Kember (R) and Commander Grant welcome guests on board (Photo: Tuong Thuy)
"The relations between New Zealand and Viet Nam have never been better," New Zealand Ambassador to Viet Nam James Kember said during his welcoming speech at the party.

Mr. Kember, Commander Andrew Grant of the frigate Te Kaha and Commander James Routledge of the supply ship Endeavour expressed their thanks to Ho Chi Minh City's hospitality for the two ships' 25 officers and 190 crew members.
Mr. Huynh Khanh Hiep, deputy office manager of the Ho Chi Minh City People's Committee, said, "Our city hopes that after the visit, you will become goodwill ambassadors for the bilateral relations between the two countries."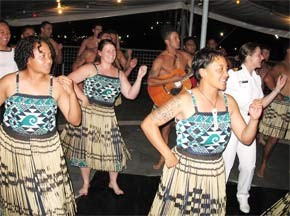 Crew members perform a Maori dance (Photo: Tuong Thuy)
New Zealand dishes and beverages were served on board, and some of the crew members performed Maori dances amid the winds from Saigon River.

Earlier during their stay, the two commanders, who were appointed to the staff of New Zealand's Chief of Navy in September, had laid a wreath at the Statue of Uncle Ho in front of the City Hall. They had also paid a courtesy call on city leaders and the Vietnamese Navy's representatives.
The ships' officers and crew members took part in friendly sport activities, went on some local sightseeing tours, and joined some charity activities.
Before this trip, the Te Kaha and the Endeavour had visited Ho Chi Minh City twice: one in 2002 and the other in 2004.
Related article
New Zealand Ships Steam For HCM City