Vietnamese police have concluded the collapse of part of the lobby ceiling at the five-star Caravelle Hotel in downtown Ho Chi Minh City was not caused by sabotage or explosives.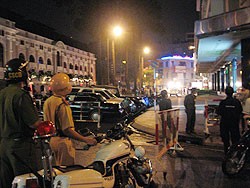 Police protect the accident site at the Caravelle Hotel in downtown Ho Chi Minh City (Photo :TNO)
Colonel Phan Anh Minh, deputy director of the city Police Department, said an examination of the accident site found no trace of sabotage or explosives.
However, investigators from the Police Department and the Ministry of Public Security's Criminal Science Institute discovered a high concentration of methane gas in the basement which could have exploded if something caused a spark.
 
The pressure from the blast damaged a 30 square meter area in the lobby and led to the collapse of a 200 square meter section of gypsum ceiling, which injured three workers, one seriously.
Investigators said the hotel's poorly-ventilated basement was used to store petroleum, gasoline, toilet waste and garbage. Methane gas produced by the organic waste could have built up.
While examining the site, police lifted up a collapsed wall to discover a fire had broken out in a storage area that had filled with gas.
Related article:
Three injured in ceiling collapse at Caravelle Hotel