City residents have an unhealthy habit of using plastic bags in their daily lives, which is causing a serious impact on the environment as plastic is non-biodegradable and with about sixty tonnes of plastic bags being thrown as garbage every day, Ho Chi Minh City will soon see vast areas buried under it.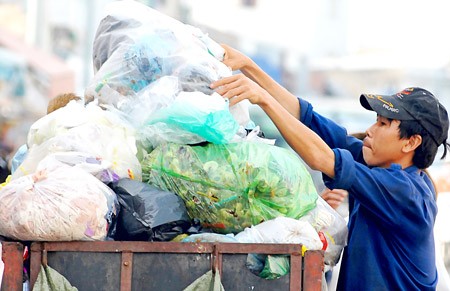 Tonnes of plastic bags are thrown in the city every day (Photo:SGGP)
It is difficult to change this embedded habit, laments a staff member of the City Department of Natural Resources and Environment.
After receiving fresh fish in a plastic bag, a buyer at HCMC's Thai Binh Market asked that it be double bagged to avoid dirtying her hands.
Earlier this month, the Department of Natural Resources and Environment said that 60 tonnes of plastic bags were thrown away in the city every day, however, only a very small portion are recycled.
Much of this amount makes its way to landfills, which are quickly filling up. Meanwhile, people continue to simply throw used plastic bags in the nearest street, gutter, canal or river.

To deal with the problem, the Ministry of Natural Resources and Environment had applied tax of between VND30,000-VND50,000 (US$1.43-2.39) per kilogram on plastic bags, excluding those that are environment-friendly or used for packaging.

This tax was meant to decrease the usage of plastic bags, as well as heighten environmental awareness. Still, use of plastic bags continues. Many small shop-owners have said that customers demand the same, despite the higher pricing.
Now the Department of Natural Resources and Environment has proposed banning of free plastic bags and asked the city government to set up a steering committee to manage plastic bag usage by local retailers.
Under the proposal, local authorities would encourage the production of biodegradable bags as well as increase recycling of plastic bags.
The proposal also suggests that favourable loans be extended to firms that are involved in reducing industrial pollution and recycling of waste.

An owner of a small recycling shop in Binh Chanh District said that he was shutting down his plastic recycling operation as the process was not cost effective.

Ngo Nguyen Ngoc Thanh, deputy director of the HCMC Waste Recycling Fund, said there had been no official research on the amount of used plastic bags being recycled. The city has set a target of reducing 40 per cent of plastic bags by 2015, she said.

However, many recycling plants have been forced to move or close down due to environmental violations. They often emit toxic fumes and smoke into the air and neighbours constantly complain about the stench from large quantities of plastic being processed.

It is necessary to limit use of plastic bags, Thanh added, and the government should implement more effective measures and help improve people's awareness of use of plastic bags.