Officials and public servants are to publicize their income and property including real estates, jewelries, bank accounts and other possessions worth VND50 million (US$3,078) or over, reiterated delegates at a meeting in Ho Chi Minh City yesterday.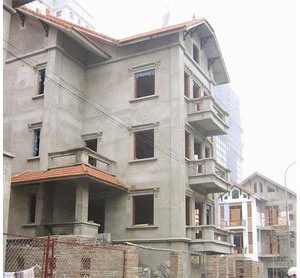 One house of Bui Tien Dung, former PMU 18 director recently jailed for gambling away hundreds of thousands of US dollars.
Such declaration must be finished and submitted by this month, said the city's Deputy Chief Inspector Hoang Duc Long at the meeting aimed at putting Decree 37 on Officials' Property and Income Declaration into practice.
According to the Government stipulation issued back in March, those obliged to declare their property include persons elected or appointed to tenures such as legislators, and commune, ward and district officials including heads and deputy heads of local Party cells, and leaders of local governments.
Executives at state enterprises and organizations are also subject to the declaration as well as military officers, state employees in charge of managing State budgets, auditors, inspectors, police, court clerks and notary officers.