A sixth and longest steel flyover across Cay Go Roundabout in District 6 in Ho Chi Minh City was opened for traffic on October 19.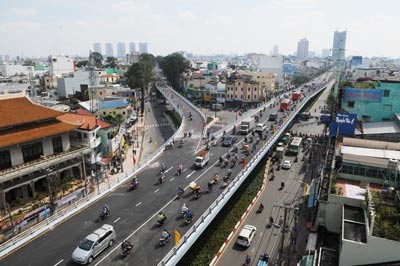 The new flyover with Y shape across Cay Go Roundabout in District 6 (Photo: SGGP)
The new flyover is built in a Y shape including one fork from Ba Thang Hai Street to Hong Bang Street covering a length of 234 meters and width of 7 meters and Hong Bang Street straight covering a length of 303 meters and width of 12-15 meters.
It is built at a cost of VND314 billion ( nearly US$15 million) for motorbikes, cars, buses and trucks with a load of under 10 tons to travel through.

The flyover will help reduce the overloaded traffic congestion in the district easing the travelling to Mekong delta.

Municipal People's Committee chairman Le Hoang Quan and his deputy Nguyen Huu Tin attended and cut the ribbon to officially inaugurate the new flyover.