Urban areas will need many underground construction projects although the lack of thorough preliminary studies has deferred or stopped some of them, experts say.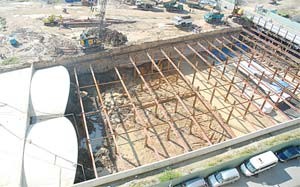 Thu Thiem tunnel is the sole underground project implemented (Photo: SGGP)
This conclusion was drawn at a conference on "International and National Experiences in Underground Urban Center Projects". 
The conference was an opportunity for local and foreign construction experts to discuss and find solutions to current problems and look at future prospects. 
It was organized by the Viet Nam Federation of Civil Engineering Associations, HCMC Construction Department, Institute for Urban Research and Infrastructure Development, Nguoi Do Thi (Urban Residents) Magazine, Apave Viet Nam and East South Asia, and the Vincom Joint Stock Company.  
Obstacles

At present, Viet Nam only has one underground project implemented, the Thu Thiem Tunnel, but there had been problems in implementing it. Since no geological analysis was done on the site, some cracks have appeared at a few sections of the tunnel.  
None of eight underground parking lots approved by the city leadership and opened for investment since 2004 has been carried out yet.  
Geological analysis has been done on one underground parking lot at the Le Van Tam Park, and the project has received the go ahead, but others are still stuck.  
Particularly noteworthy is the underground parking lot at Lam Son Square for which the complete analysis and design had been submitted at a total cost of millions of US dollars by a private investor. The approval granted for the project was revoked and compensation paid for the rejection. The reason for this was that the authorities were worried they could not predict possible damage to nearby attractions if the underground parking lot was built. 
Addressing the conference, consultant Nguyen Van Quang of Apave Viet Nam and South East Asia said that some of the underground projects, especially the drainage system for the Thi Nghe-Nhieu Loc area, could not be speeded up because of a lack of cooperation from local officials in finding and removing some underground obstacles in the location.  
For example, workers recently found unexploded bombs and other objects as they dug into the earth, and broke their drill heads on a huge cable. The project has been suspended until now. 
Some other projects have run into already existing underground works, but it was difficult to find their owners and relevant departments to help resolve the issue.  
A lack of highly skilled, educated work force to support the underground projects was another problem, Quang said. There was no training available in Viet Nam that was specific to underground construction, he added.  
Hopeful signs
Many experts from France, China, Malaysia and Singapore recommended that the local constructors reanalyze their projects so that even if something caused them to be suspended for sometime, it would be possible to make changes and get the approval to continue implementation. 
Other participants noted that previous studies and data about a project site are often difficult to find in order to make comparisons with the current situation. 
Experts agreed that the most important thing task was to carry out surveys again on the underground remains from previous wars and also other obstacles that have existed for many years. If this survey is done well, constructors will have appropriate data to help their work. 
This was supported by both the city leadership and investors who felt this would clear the ground for future implementation of underground projects. 
The project that garnered most attention during the conference was the underground traffic system at four locations most prone to traffic jams: the intersections of Nam Ky Khoi Nghia and Ly Chinh Thang streets; Dien Bien Phu and Hai Ba Trung streets; Nguyen Thi Minh Khai and Cach Mang Thang Tam streets; and the Dan Chu square. 
The city People's Committee also asked for feedback on whether or not to carry out the seven planned underground parking lots other than the Le Van Tam Park. The experts felt that the projects needed to be carried out since they would bring considerable long-term benefits.
The city currently plans four underground metros running from Ben Thanh to Tan Son Nhat; through Binh Tay and Phu Lam to An Lac; to Thu Thiem; and to Saigon South.

Officials are hoping to expedite the underground parking lot projects since the city currently has 370,000 motorbikes of local residents and 40,000 from other areas plying the city roads everyday.
The future underground parking lots are set to be located at the Lam Son Square; the Chi Lang Park; the Le Van Tam Park; the Hoa Lu Stadium; Bach Tung Diep Park, Tao Dan Football Ground; Nguyen Hue Boulevard; and the parking lot at 116 Nguyen Du Street.