Party Secretary Dinh La Thang was disappointed at the slow speed of constructing a satellite hospital in Ho Chi Minh City's Go Vap District when touring the hospital on June 5.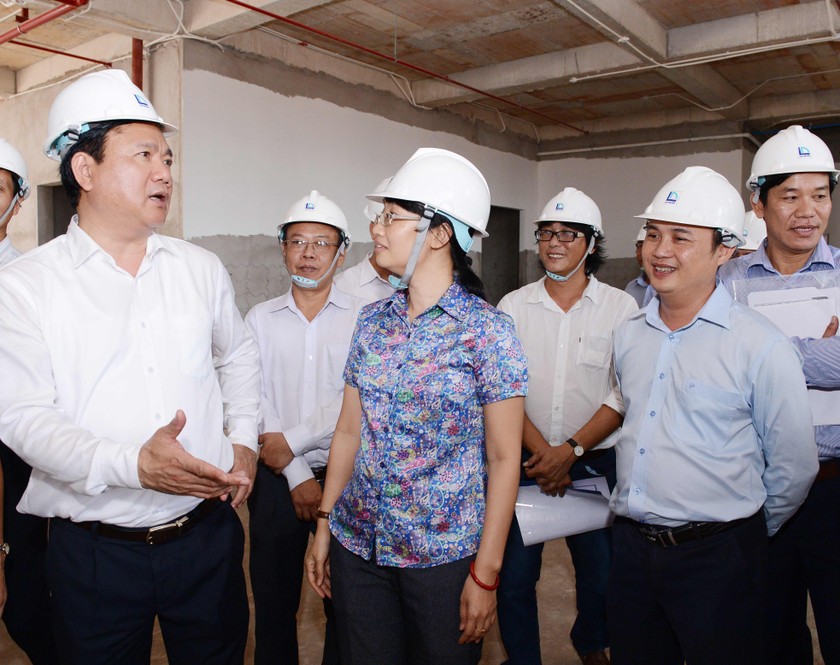 Mr. Thang and Go Vap District administrators exchange ideas over the construction speed of the hospital's construction (Photo: SGGP)
According to pledge of  hospital managers, the hospital will be completed in October but it is hard to finish on scheduled.

Because the hospital gets dilapidated, the People's Committee decided to build a satellite hospital on the area of 13,340 meter square with six floors and 300 beds. The new hospital will have wards including emergency, X-ray, Nutrition, Oral and Maxillo facial Surgery, Otorhino laryngology, Maternity, Pediatrics, and traditional medicine.

It is estimated the hospital cost over VND470.3 billion (US$ 20,986,166) and built in 20 months. However, in the meeting with the Party Secretary, chairman of Go Vap District People's Committee Le Hoang Ha said that the expenditure for purchasing equipment increased from VND30 billion (US$1,338,688) to VND80 billion (US$ 3,575,404)

Mr. Thang urged the district administrators to speed up the construction so that the hospital must be operate soon as Go Vap is one of the city's crowded district.

On the same day, Secretary Thang visited the General Hospital in Cu Chi District with 1,000 beds and 1,200 medical staffs.
Mr. Thang gave the green light to the hospital managers in self finance to raise medical workers' living condition and treatment quality. He highly spoke of the hospital's achievement in carrying out difficult surgeries to save people in the border gate districts namely Long An, Tay Ninh, Binh Duong and Cambodian expecting that the hospital will make more efforts to deserve with its honor.