Many shoppers had to jostle at supermarkets in Ho Chi Minh City for state-subsidized goods, which were offered with small quantities.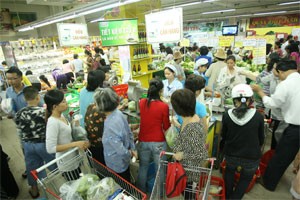 Shoppers pick vegetables at supermarket Co.opMart Cong Quynh in HCMC's District 1. Many shoppers complaint they had to jostle for state-subsidized goods (Photo:Minh Tri)
Le Ngoc Minh, a regular shopper of a supermarket in District 3, said "the sales of state-subsidized goods at supermarkets are better than retail markets as they set up separated areas for those products with clear signs."
"However, the areas are relatively small, with just a few products. As a result, many people jostled right after the goods were put onto the store shelves," Minh noticed.
Nguyen Phuong Nga of Binh Thanh District said she visited to buy state-subsidized sugar and cooking oil at the local supermarket Co.opMart Nhieu Loc couple days ago, but she was startled to see empty shelves at the area of state-subsidized goods.
An employee of the store explained that the products were sold out, asking her to come back in the next day. "However, there was the same story on the next day, with a similar explanation," Nga said.
Many shoppers told Dau Tu Tai Chinh Newspaper that they coped with a similar issue at Co.opMart Cong Quynh in District 1 and Co.opMart Nguyen Dinh Chieu in District 3.
Some stores have sold state-subsidized products with very small quantities. HCMC-based food supplier Vinh Thanh Dat limits its sales of eggs to 2-3 boxes [10 eggs per box] for one buyer. FoocoMart in District 1 offers each customer 3 kilogram of sugar and three cooking oil bottles with state-subsidized prices.
Bui Hanh Thu, deputy general director of supermarket chain Saigon Co.op said four out of eight state-subsidized products were sold well, including rice, sugar, cooking oil and processed food.
They are also the goods that many shoppers jostle for, Thu said. "The price stabilization program help low-income consumers deal with inflation.
"However, some people are cashing in on the program to speculate on the state-subsidized goods. To curb the issue, Saigon Co.op had to restrict the buying quantity of each customer. For example, we sell at maximum 2 kilogram of sugar per day," she said.
Many people complaint they could not buy state-subsidized goods even with small quantities at the last days of the program. Supermarkets, on the other hands, said suppliers stopped supplying the goods after the Tet holidays.
The price stabilization program has participating firms sell essential goods at prices 10 percent lower than prevailing market rates in return for incentives like interest-free loans to stock the listed goods.
Under their price stabilization programs this year, Hanoi and Ho Chi Minh City have so far spent VND400 billion (US$19 million), and VND380 billion ($18.1 million), respectively. The money is mostly given as interest free loans to 28 participating businesses so they can stock and sell rice, meat, seafood, processed food, eggs, cooking oil, sugar and vegetables, at prices lower than in the market.
Vietnam's inflation rate escalated to its highest in 22 months, as prices increased 11.75 percent last December from a year earlier, according to the General Statistics Office.