More than 1,000 Ho Chi Minh City inhabitants of Chinese origin attended a new-year meeting in the city on Feb. 2.

They urged the community to adhere to their cultural traditions and expressed their hope that they could make greater contributions to educational standards, both locally and nationally.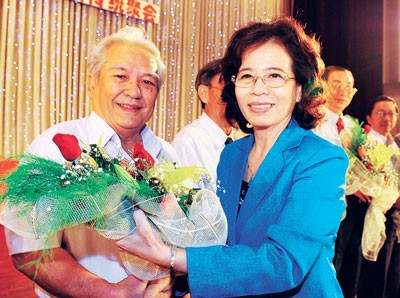 HCMC deputy Party chief Huynh Thi Nhan (R)presents flower to a Chinese Vietnamese at the meeting (Photo: SGGP)
Addressing the meeting, HCM City People's Council Chairwoman Pham Phuong Thao praised the Chinese community's contributions into socio-economic development, particularly their poverty reduction activities and humanitarian traditions.
Ms. Thao said she hoped that the families of Chinese origin would continue to observe their fine customs and uphold the spirit of unity and mutual assistance, caring about the education of their children and improving the living conditions and educational standards within the community.
According to Dao Nhieu Linh, head of the city committee for affairs of the Chinese Vietnamese, education of their children is one of the community's major priorities, as they consider this to be the most positive way to uphold their traditional values.