More than 300 outstanding youth attended a congress in Ho Chi Minh City on June 4-5 to mark 10 years since President Ho Chi Minh left Vietnam to seek ways to liberate his country from colonialism.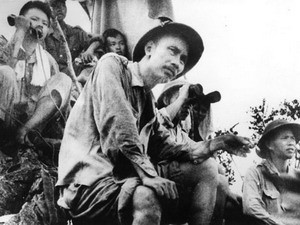 President Ho Chi Minh (File)
Every young attendee was deeply entrenched in the philosophy and teachings of Uncle Ho.
 
Le Van Diep from Son Trach Commune in the central province of Quang Binh is an example.
 
Local residents call him "Hero of Son River". When the Son Trach Commune was inundated by floods in October 2010, he helped evacuate its residents by boat to safer areas. He is known nation wide for rescuing more than 150 people during the floods.
 
At the Tay Trang international border post in the southern province of Dien Bien, a drug smuggler stabbed sub lieutenant Nguyen Chi Ninh during a raid in April 2010.
 
While hovering between life and death Ninh found strength in the teachings of Uncle Ho. The first, to remain devoted to the people and the second, to remain determined towards enemies. The drug smuggler tried to escape by jumping into a 30-meter abyss but was caught.
 
Tran Van Toan from the Soc Ha border post in Cao Bang Province lives by the teachings of Uncle Ho that of remaining always in touch with people. This teaching has helped him in his work to gain more information, so he and his team were able to detect many cases of women and child trafficking and counterfeit money laundering across the border.
 
Mr. Toan believed that the pious yet vibrant life of uncle Ho had many lessons to offer humanity to contemplate and adopt into our work ethics. The philosophy of Uncle Ho was like a beacon of light showing the right path to the younger generation.
 
Addressing the congress, Le Thanh Hai, Party Politburo member and Secretary of the Municipal Party Committee, said outstanding youth are symbols of the young generation of the new era, who are always faithful to and have confidence in the Party leadership. They are devout patriots and have the civic responsibility to fulfill difficult and innovative tasks for their country.