Phu Dinh River Port has little to show that it is the biggest river port in Vietnam, as there is very slow business activity here, most of which has been sabotaged by small privately built ports located along the Cho Dem River.
Located on the confluence of the Can Giuoc River and the Cho Dem River in Ben Luc and Doi Canal, Phu Dinh Port is considered a convenient location to transit commodities transported by boat from Ho Chi Minh City to the Mekong Delta and vice-versa.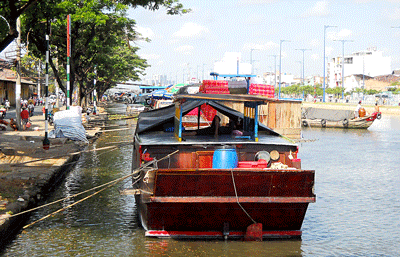 A private illegal port in Tau Hu Canal (Photo: SGGP)
Early this month, only a few boats were seen loading goods at Phu Dinh Port. On the other hand, nearly 20 small ports along Tau Hu, Ben Nghe, Doi and Te canals were bustling with activity with boats transporting fruits, rice, flour, rubber and items like hand-painted ceramics from the Mekong delta provinces of Long An, Can Tho, Hau Giang , Vinh Long and Dong Thap.
These small ports with no wharfs and warehouses have been erected by local people living along the river. They offer boat owners cheap rates for loading services and hence being favoured by traders.
Relevant authorities will now co-ordinate with officials in District 8 to conduct inspections along the canals and impose stiff penalties on violators and shut down illegal ports.
These illegal ports are hindering the business of Phu Dinh Port and also causing massive river pollution, as boats throw their left over waste into the river. Big boats are also causing severe land erosion along embankments.
Tran Hoa Lan, director of the port, said the volume of commodities at Phu Dinh Port at present is around 1,000 tonnes a day. He pointed out that the impractical design of the port had prevented big capacity barges from entering. Moreover, roads leading to Phu Dinh Port also need upgrading.
To make the port effective once again, the Phu Dinh Port management board has increased lease period of warehouses or allowed customers to build appropriate warehouses for their products.
Leaders of Phu Dinh Port have asked the authorities to create favourable conditions for the port to function effectively and for inspectors to crack down on illegal private ports.
According to the zone plan, the city also has a river port system in District 4 and 7 besides other areas. Phu Dinh Port is considered a main river transport link connecting various transport routes between HCMC and Cuu Long in the Mekong Delta and to the southeastern provinces.