Prime Minister Nguyen Tan Dung on Saturday asked Ho Chi Minh City to lead the country in preventing economic slowdown, maintaining growth and ensuring social welfare.

Mr. Dung made the request while working with the city's leaders to review the implementation of socio-economic tasks this year and 2009 plan.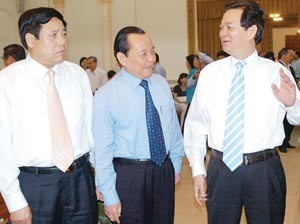 Prime Minister Nguyen Tan Dung (R) talks with HCM City party chief Le Thanh Hai (C) during Saturday's meeting (Photo: SGGP)
He suggested that the city should help businesses maintain production, prevent from high unemployment and make most use of its potentials in order to create high quality products for export.
Ho Chi Minh City should focus on applying latest technologies in production and urban management and traffic safety, Dung said.
Especially, Ho Chi Minh City and Ha Noi must lead the nation in planning management and administrative reform, he added.
This year, the city's GDP increased 11 percent, 1.7 times fold compared to the country's growth rate. Its export value increased 21.8 percent and the city recorded consumer price index of 18.08 percent.
The PM also pointed out the city's weaknesses in economic and investment development, administrative reform and improvement of citizens' daily life.
He asked the city's leaders to pay attention next year to implementation of the Government's five groups of solutions including removal of difficulties in production and business operation, increased investment in effective projects and ensuring social welfare.
He also allowed the city to issue bonds worth one billion USD to invest in the construction of uncompleted works or viable projects.
HCMC party chief Le Thanh Hai said next year, the city will strive for achieving a 10 percent GDP, export increase of 16.5 percent and consumer price index lower than 15 percent.