Vietnamese police have launched legal proceedings in a case of alleged bribery involving Tokyo-based Pacific Consultants International (PCI) and the former director of a highway project in Ho Chi Minh City.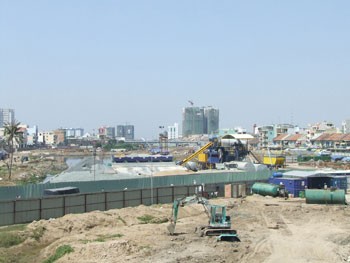 The East-West Avenue project is under construction in Ho Chi Minh City (Photo: SGGP)
The case involves Huynh Ngoc Si, former director of the ODA-funded East-West Avenue project, who was suspended from his job on November 19.
The Investigation Department of the Ministry of Public Security announced the decision of probing on Dec. 9.
Probing aims to help investigators to do their job following what four ex-employees of PCI claimed. They had earlier claimed in Japan that they had given Si bribes of more than US$800,000 in exchange for the provision of consultancy services for the project, funded by Japan's official development assistance (ODA).
They said the bribes were given between 2003 and 2006.
After Si was suspended, Le Toan, deputy director of the Ho Chi Minh City Department of Transport, was assigned to replace Sy as director of the highway project, which currently is under construction.
Regarding the PCI case, Vietnamese Prime Minister Nguyen Tan Dung has instructed Vietnamese authorities to work closely with Japanese agencies in investigating and handling the case in accordance with Vietnamese law.