Many sections of roads in Ho Chi Minh City have suddenly collapsed in recent months due to poor construction and site management, causing numerous traffic mishaps.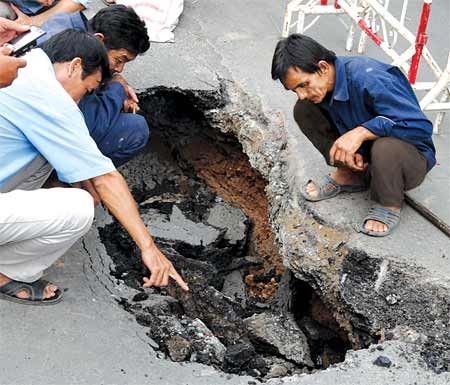 A sinkhole caused by shoddy construction work on Hai Ba Trung Street (Photo: SGGP)
According to the HCMC Transport Department, 22 sinkholes emerged in the city from July to mid October, it means that on average a section of road collapsed into the ground after every 4-5 days.
These sinkholes were usually seen on roads where sewers had just been installed as part of the massive sewerage, environment and urban improvement projects, including Hai Ba Trung, Le Van Sy, Pham Van Hai, Nguyen Kiem, Au Co, No Trang Long, Nguyen Van Dau and Xo Viet Nghe Tinh streets.
After inspection, the department's Traffic Infrastructure Management Office attributed sinkholes to improper technical works that caused junctions between sewers open, and thus the water leaked out, forming sinkholes underneath the roads.
So far, the city has installed nearly 200 kilometers of sewers under hundreds of roads. Together with the old sewer system, these sewers are a threat to people as it's hard to find out if they are broken underground.
The department said to install sewers, workers have to dig roads 4-6 meters wide and 3-4 meters deep. If connecting sewers and refilling roads are not properly executed, the roads will collapse under the weight of traffic.
Meanwhile, engineers warned said though the connecting and refilling processes are properly done, roads will still face the collapse and even more, because 1,000 kilometers of sewers in the city which were built tens of years, with some built nearly 100 years, ago have deteriorated severely.
Numerous fatalities have taken place due to public construction works, such as children falling into open sewage holes, or riders tumbling into deep excavations without fences or sinkholes.
In most cases, the settlement is merely token compensation by the contractor, and no agency has been imputed penal responsibilities.