President Nguyen Minh Triet and Party Central Committee Secretariat standing member Truong Tan Sang joined leaders and people of HCM City in celebrating the traditional Tet festival on Feb. 3, the first day of the Lunar New Year.
Feb 3 is also the 81 anniversary of the founding of Vietnam Communist Party.
They were welcomed by members of Hochiminh city Party committee standing Board, the leaders of HCM people's counsel, HCM people's Committee and Father land, intellectuals, religion leaders armed forces….
Comrade Triet and Sang congratulated the Party committee and people of HCM City on their socio-economic achievements in the past year, particularly as the city is the country's largest economic centre. The two Party leaders praised the great achievements recorded by the municipal Party Committee, authorities, people and armed forces.
Besides, HCM city also

ensured political stability, social parity, reduce the gap between the rich and the poor and ensure that the poor can have a welfare on Tet festival

.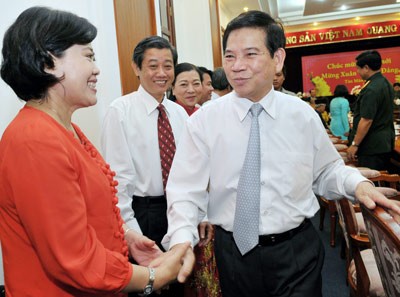 President Nguyen Minh Triet (R) and city vice chairwoman Nguyen Thi Hong
They said they believed HCM City will live up to its reputation of strong vitality, dynamism and creativity and lead the nation in the industrialisation cause, and they wished HCM City even greater achievements in the New Year. The Party leader has expressed the hope that with the spirit " for the whole country and together with the whole country", the HCM City Party Committee would, with its resilient revolutionary traditional methods, would further exemplify unity, overcome the many difficulties and continue to remain committed towards development. lead the way in the implementation of the goal " wealthy people, strong nation, democratic fair and civilized society as stipulated by the 11th National Party Congress Resolution.
Politburo member and Secretary of the HCM City Party Committee Le Thanh Hai on behalf of the city leaders wished Comrade Triet and Sang good health and a prosperous and happy new year. He also
briefed members about the results of tasks implemented as part of the socio-economic development in the past 5 years.