The first Qatar Airways flight to carry Vietnamese migrant workers fleeing the chaos in Libya home is due to touch down at Ho Chi Minh City's Tan Son Nhat Airport on the Saturday evening, said a QA representative in Vietnam.
The source said the flight transported 95 Vietnamese workers who were going home from the Libyan capital Tripoli. They left Tripoli on Friday for Dubai, UAE, and then flew to Qatar's Doha for their travel back to Ho Chi Minh City.
The flag carrier of Qatar said though it is now the peak season, priority is given to the evacuation of Vietnamese migrant workers in Libya.
The Vietnamese government is seeking to bring home about 10,000 Vietnamese laborers who have been working in the North African country, where foreigners are trying to escape amid fears of an all-out civil war.
The first group of Vietnamese migrant workers from Libya arrived home early Saturday at Hanoi's Noi Bai Airport.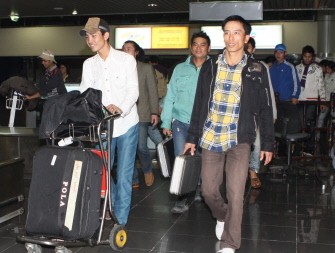 AFP photo - Vietnamese migrant workers fleeing Libya arrive at Hanoi's Noi Bai airport on February 26, 2011.
Vietnamese Prime Minister on Friday established a committee on the evacuation of migrant workers in the Middle East and North Africa. Deputy PM cum Foreign Minister Pham Gia Khiem heads the committee.
The committee's duty is to bring the workers back home safely by all means.
Vietnam Airlines said it would operate specially chartered flights to carry Vietnamese workers home from Libya. The flights include two set to depart Cairo in Egypt on Mar 1-2 for Hanoi.