Investors of underground parking lots in Ho Chi Minh City on Monday expressed dissatisfaction at project constructions not taking off due to complex and lengthy administrative procedures.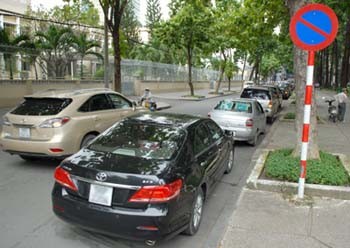 Several cars illegally park along Alexandre De Rhodes Street in District 1 (Photo: SGGP)
They were speaking at a meeting chaired by Nguyen Huu Tin, Deputy Chairman of the City People's Committee, with departments and investors on the progress of underground parking lots.
The project to build a parking lot under Le Van Tam Park in District 1 has been on hold for over one year. The five floor complex was planned 15 metres underground.
Le Tuan, director of the company that has invested in the project said that they cannot start construction due to administrative red tape.
For every document submitted by the company to a concerned department, there is a 20-30 day wait period, and the process may even take more than 3-4 months, he said.
Mr. Tuan said his company has worked on this project for eight years, and over time the initially estimated capital of US$70 million has now increased to $200 million.
Similarly, construction of another underground parking lot in Trong Dong Theatre in District 1 has been shelved for two years and has yet to take off.
The parking area includes three floors above the ground and nine to be built 23 metres below ground.
The Dong Duong Company who has invested in the project said that they have waited for relevant authorities to determine the land lease amount for over two years.
Another five floor parking lot under Hoa Lu Stadium in the same district is facing the same fate, being held up by several administrative procedures.
 
At the meeting, Mr. Tin instructed the Department of Transport and relevant departments to meet again soon and resolve difficulties for the investors, so that they can begin construction of the underground parking lots as soon as possible.