Although Ho Chi Minh City authorities strive to reform and speed up administrative procedures for construction projects, several businesses still lament on unending red tape that is holding up many of their projects.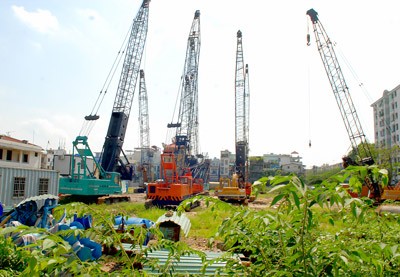 Construction site of Ly Thuong Kiet apartment block in District 11 in HCMC (Photo: SGGP)
Nguyen Van Duc, deputy chairman of the City Real Estate Association, said that over the last four years, construction procedures have not reduced in number, but have increased much more.
For instance, earlier after investors were in possession of land, they just needed to ask relevant authorities for a licence to implement the project, he said.
However, now investors must follow a lengthy process for the Department of Construction, Department of Planning and Architecture, local authorities and other relevant agencies to assess the investor's ability to carry out the project.
This process takes up to six months, when businesses must come to meet authorised organisations to prove their ability several times over.
Le Tuan, director of the Underground Infrastructure Investment Company, who is the investor of the parking lot project under Le Van Tam Park, said that paperwork of procedures that the company had to do in the last ten years, now weigh almost one hundred kilos!
The Dong Duong Company, investor of two underground parking lots in Trong Dong Theatre and Hoa Lu Stadium, has worked on the projects for over five years, but has yet to start construction work because of a hold up in administrative procedures.
Besides, Nguyen Thi Bao Quynh, deputy director of the company said that preferential policies to attract investors for underground parking lot projects have kept changing.
Specifically, when the company was licensed to build the first parking lot in 2008, they were exempt from land rent and the city also assisted with 3 per cent annual interest rate for a bank loan of 70 per cent of the total capital amount.
However, the above offers were done away with in 2010, when the company was licensed to build the second parking lot. These fluctuating changes have held up the project, even thought the city is in dire need of parking space.