Ho Chi Minh City is swelling as an increasing number of people from all over the country flow into the southern hub to find work, money and opportunity while the municipality takes regulatory measures aiming to not be overwhelmed.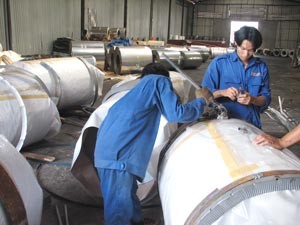 Many of immigrants end up working in industrial zones (Photo: T.C)

As reported by the HCMC Economic Institute, roughly 1.81 million living in the city-based residential areas and industrial zone - 30 percent of the city population - has moved there from other provinces.
These workers usually seek jobs - sometimes desperately - that require labor and sometimes even physical danger while compensating with low income.
Most of those who move to the city from the countryside and are lucky enough to find jobs end up working in industrial zones. A small percentage of others become small-time street merchants.
The HCMC People's Committee has applied many policies and management measures to ensure the rights of rural people, issuing regulations on residential and labor management.
In a report on the situation of migrating people in urban areas and industrial zones, the city's committee said it plans to build more urban areas for the reallocation of workers and control population growth, keeping numbers as low as 7.2 million people by 2010.
The city proposed that the government issue policies to control mass migration and boost economic and social security development in other regions.
It also asks for a stronger municipal urban management authority to apply administrative measures to control migration.