After the discussion on resolution of the 11th Congress of the Party yesterday, most of the participants agree that it is important to take rational consciousness and sensible resolution adoption.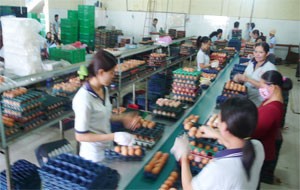 Workers at a food supplier in HCMC (Photo:Phan Hien)
Ho Xuan Lam, Chief of Labor Management, HCMC Export Processing and Industrial Zones Authority (HEPZA)
The most important thing is to adopt the resolution with certain programs and plans. It is essential to diversify the means and forces of impartation so that each group of people can understand the resolution correctly, believe it absolutely and perform it spontaneously. HEPZA will immediately focus on the issues related to workers.
HEPZA will particularly further inspecting and pointing out the derogation from certain enterprises, together with giving them specific instructions to help them correctly adopt the regulation on protecting the employees' right and benefit. The staff of the company themselves needed training on the law of labor.
This point will help both strengthen the relationship between employers and employees and reduce strike.
Nguyen Ngoc Co, Deputy Chief of City Organization and Public Relations Department
In three days of discussing the resolution, the lecturer successfully helps the researchers recognize the relationship between the resolution and specific responsibility. On the way to adopt the resolution, it is not redundant to unify issuing and implementing it.  
In reality, some important department such as Police, Tax or Construction Inspection Department should be aware of deploying the resolution practically and dealing with the urgent matter of people on the responsibility of regional staffs and party members.
Vo Van Thanh, Deputy Chief of Department of Propaganda and Training, Tan Phu District
After understanding thoroughly the resolution, the Department of Propaganda and Training will transmit the basic and new points of Documents from the Congress to the local organizations.
A persuasive lecturer will be carefully choosing for carrying out this job. In the lecture, discussion will be put forward so that everyone can grasp thoroughly and seriously the resolution.
Bui Thi Ngoc Trang, Director of Politics Improvement Center, Binh Thanh District
The 11th Congress of the Party brings democracy and brainpower of the nation as a whole. In the congress, the participants can discuss and adopt lots of important documents related to career of national construction and protection. What the representatives of the center receive after the class will be conveyed to the local staffs and party members.
The discussion on the resolution helps the participants realize the viewpoints, purposes and policies in each document. From that, the specific action will be put forth and wrong consciousness will be straightened.