Road accidents in Ho Chi Minh City declined remarkably in the first six months of the year, but traffic jams became worse than before, reported the Committee for Traffic Safety at the conference held by city Wednesday.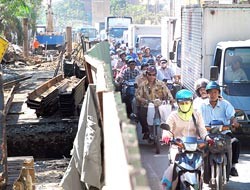 Works on Ton Duc Thang St., district 1, causes a traffic jam

Speaking at the meeting, Tran Quang Phuong, director of the Ho Chi Minh City's Department of Transport and Communication, said that the traffic situation in the city in the first half of this year was better than in the same period last year, indicating in the number of accidents down by 152 cases, the death toll declined by 107, and injuries decreased by 244. 
 
The meeting was taken by surprise when hearing that the third leading cause of road accidents was pedestrians, after motorbikes and trucks. Most of the road accidents resulted from drivers entering wrong lanes or pedestrians committing faults during their travel. 
 
Of the 462 deaths in 513 road accidents in the first half of the year, 197 were people residing outside the city. It is worth noting that illegal motorbike races did not occur during the first 6 months of the year, said Phuong.
 
While road accidents declined, traffic jams in first half of the year became worse than before, with 22 huge snarl-ups recorded, up 10 cases compared to last year. Main causes of traffic jams were poor traffic infrastructure, flooding and works on roadways. 
 
The traffic situation is expected to develop complex way, since from now until the end of this year, about 45 km of road will be used for works. In addition, most of the city's drainages are out of date, resulted in flooding in case of heavy rains. Moreover, the increasing number of motorbikes and cars has worsened the already crowded traffic. 
 
At the meeting, People's Committee Chairman Le Hoang Quan praised efforts by relevant agencies in driving road accidents down. However, he said, more endeavors are needed to make the traffic better in the rest of the year.
 
Mr. Quan asked relevant agencies to take measures for raising the public's consciousness of traffic safety and to prepare plans for encouraging the people to use buses for their daily travel.
 
He also directed the Department of Transport and Communication to revoke licenses of construction projects that have been developed carelessly, causing road accidents. Contractors may be subject to criminal prosecution for their irresponsibility. 
 
In the first half to the year, road traffic police dealt with 591,593 cases of violating traffic regulations, seizing 3,278 drivers' licenses, detained 23,317 various vehicles, issued fines to 12,140 people not wearing helmets and 3,317 overloaded vehicles. Meanwhile, the waterway police handled 27,137 infringements and the Transport and Communication Department's Inspectorate treated 7,797 violations. Total fines for breaking traffic regulations amounted to more than VND103 billion (US$6.2 million).