Three large-scale projects to improve drainage systems and sanitation by the HCMC Department of Transport will continue this year. Traffic congestion, as a result, continues an ongoing headache for city dwellers as over 80 streets and roads will be dug up.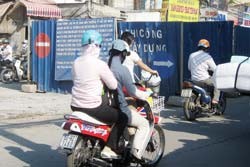 Roadworks blocking most of a street in the city
More than 116 kilometers of streets and roads will be dug up between 2009 and 2011, said the Department.

Dau An Phuc, deputy manager of the Traffic Management Section of the HCMC Department of Transport , said that digging will continue to be carried out on a further 60 streets and roads in the city in the first quarter.

These include: Bui Huu Nghia, Le Van Sy, Vo Thi Sau, Hai Ba Trung, Tran Quang Khai, Le Dai Hanh and Luy Ban Bich under the three projects of Environmental Sanitation (Nhieu Loc- Thi Nghe Basin), Water Environment Improvement and Vietnam Urban Upgrading.

Aside from works of the three main projects, roadworks by the HCMC Urban Transport Management Department No.1 and HCMC Flood Control Center will be set up on ten streets, seven of which are running in Hang Bang Canal Valley.

Many other roadworks belonging to Truong Son Highway Tunnel will also appear on Highway 1A.

Roadworks on streets have so far caused many traffic jams in the city, causing an adverse effect to the daily living of city dwellers.

To ease the problem, Tran Quang Phuong, director of the Department of Transport, emphasized that he will instruct Traffic Inspection teams to check and impose appropriate fines on contractors who violate regulations on the rate of progress of digging, setting up and dismantling barriers, filling holes and resurfacing roads.

Specifically, contractors must dig up streets immediately after they have established barriers. Any delay will be subject to fines. Water is not allowed to be pumped into streets during the digging process. Contractors are also asked to fill holes and adequately resurface the roads within 24 hours after dismantling the barriers of completed works.

Mr. Phuong said that Traffic Inspection teams will issue a warning on any contractor that violates the regulations three times. After that, any contractor that ignores warnings and continues with violations will have their contract suspended.

Contractors will be responsible for any fatal accident that happens during their period of roadworks.