After the end of the French occupation of Saigon in 1859, western influence proliferated the city's way of living and the Saigonese adapted and adopted to achieve success in all aspects of their cultural and political life.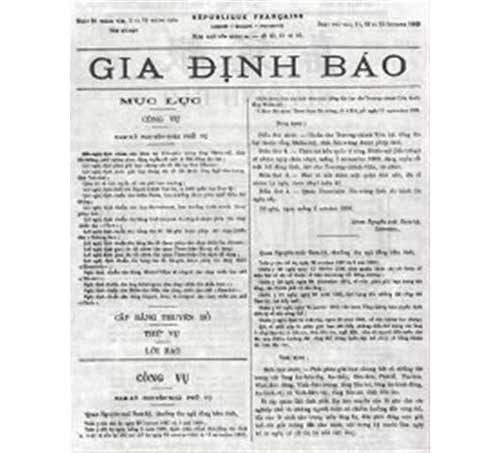 Gia Dinh newspaper, the first Vietnamese-language newspaper in Vietnam, was established in Saigon on April 15, 1865 (File photo)
Foundation of print media and literary works 

Le Courrier de Saigon, a French-language newspaper, was established in 1860, marking a beginning of press activity in the city. 
Five years later, the first Vietnamese-language newspaper, Gia Dinh Bao (Gia Dinh Newspaper), was established under French control. It was later run by Truong Vinh Ky, a renowned scholar, whose objective was to use this media to introduce the positive elements of Western civilization, popularize the national language and develop intellectual standards in people.
 
In 1917, Sương Nguyet Anh assumed the role of editor of "Nu Gioi Chung" (Common Womankind) newsweekly, the first women's newspaper in Vietnam.

She was specially invited by patriotic scholars and intellectuals to take charge, being the fifth daughter of patriotic poet Nguyen Dinh Chieu.  
Publishing its first issue on February 1, 1918, Nu Gioi Chung adopted a policy to focus on gender equality in Vietnam and issued articles on various progressive viewpoints of Vietnamese women.
 
During the Vietnamese-American war in 1966, a patriotic newspaper 'Tin Van' was founded by the Communist Party of the Vietnam Committee for the Saigon-Gia Dịnh area. Nguyen Ngoc Luong, a Party member was its first chairman and editor.
 
Under Luong's editorship, the newspaper followed a policy to promote national culture which had a positive influence on news reporting as well as the public.
 
The first literary prose work, 'Thay Lazaro Phien' (teacher Lazaro Phien), a novel by Nguyen Trong Quan, was published in the national language in 1887. The novel was soon followed by prominent works by other authors like Tran Chanh Chieu, Nguyen Chanh Sat, Le Hoang Muu, Truong Huy Toan and Ho Bieu Chanh.   
 
However, according to Dai Nam Thong Nhat Chi (History of the Unification of Great Viet Nam), 'feudal intellectuals in Gia Dinh were keen on reading but clumsy at writing'. It was clear at that time that writers in South Vietnam lay greater emphasis on content than on a writing style.
 
Notwithstanding, literary works published during that time succeeded in reflecting the aspirations of the Vietnamese people to live a better life and respect moral values.
 
Close on the heels of the print media and literature, the 'cai luong or Vietnamese traditional theatre made its presence felt in Vietnam by late 1910. Even though it did not originate in Saigon, the city became the center for the growth and development of cai luong, an influence which slowly spread to other cities and provinces in South Vietnam.
 
Over the past 80 years, Saigon has remained the hub for cai luong and has nurtured many a famous actor, actress and composer.
Socio-economic growth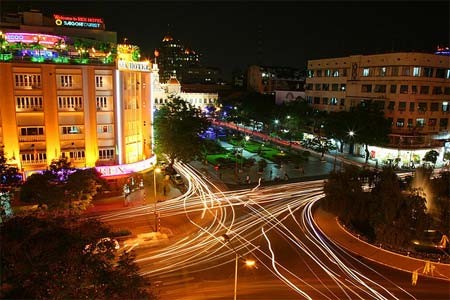 A shot of the downtown HCM City area
Saigon was also the epicenter for spread of the international communist ideology which so marks the political life of the Vietnamese people.
 
In late 1920-early 1921, the Cong Hoi Do (Red Union) was established by the revolutionary Ton Duc Thang in Saigon and in 1926, the Saigon-based French newspaper La Cloche fêlée published the Manifesto of the Communist Party written by Karl Marx and Friedrich Engels.
 
Saigon has also been home to two leading communists, Duong Quang Dong and Tran Van Giau, both of who were active in communist organizations before they joined the Communist Party of Vietnam.
 
Since South Vietnam was liberated in 1975, Ho Chi Minh City has led the country in socio-economic development. By adopting radical policies, the Ho Chi Minh City Party Committee was able to create a liberal mechanism to step up growth and trade and develop a multi-layered economy.
 
The city's successful breakthrough in socio-economic reforms, contributed greatly to the Party's doi moi (renovation) policy at the sixth Party Congress in 1986. Since then, the city has become a leader in various fields, including foreign investments.
 
Under the able leadership of the city Party Committee and with consistent efforts made by businesses and the people, Saigon (Ho Chi Minh City) is poised to prove itself to Vietnam's future growth into the 21st century.