The Department of Tourism of Ho Chi Minh City (HCMC) has just received a second class labor order and a Certificate of Merit. Following the development orientation of the department, tourism in HCMC has made remarkable progress.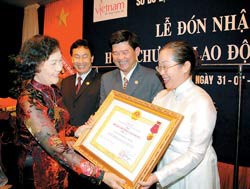 Representative of the Department of Tourism of HCMC received the Certificate of Merit.
In the first six months of 2006, more than 1,150,000 visitors came to the city, increasing 16 percent year on year. The profit has occupied 45 percent of the total turnover of tourism nationwide and 5 percent of HCMC's GDP.

From the start of the National Tourism Action Program in 2000, HCMC tourism has introduced many special tourist products: night markets, weekend fairs, big sale months, Bangkok-Phnom Penh-HCMC caravan tours.

Besides, the Department of Tourism has also launched programs of standard tourism services and restaurants. And the first tourist security force has just been set up to safeguard visitors and ensures their safety in this biggest city of the country.