Ho Chi Minh City's Department of Industry and Trade, and Department of Culture, Sports and Tourism will organize a big sale program from September 1 to 30 to fuel consumption and tourism growth.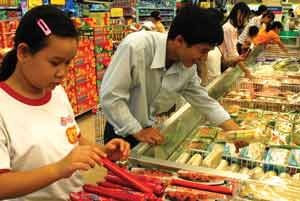 Supermarkets in HCMC will offer many discounts during September (Photo: SGGP)
Mr. Tran Vinh Nhung, deputy director of the Department of Industry and Trade, told a press conference in the city Tuesday that the annual program was targeting local consumers and international tourists, and it was expected to attract many visitors from provinces and foreigners.
The month-long promotional program is also expected to help manufacturers boost sales.
Some places with many discounted commodities are Nguyen Kim Shopping Center, Thien Hoa Electronics Trade Center, Vissan outlets, electronic stores and supermarket chains such as Coop-Mart, CitiMart, and Maxi Mark.
Thien Hoa Electronics Trade Center will offer 20% discounts on thousands of items at its four outlets in the city, said a Thien Hoa manager.
Coop-Mart marketing manager Pham Thi Thanh Tuyen said her supermarket chain would provide discounts up to 50% for many commodities.
Mr. Nhung from the Department of Industry and Trade said this big-sale month would coincide with upcoming events in the city such as the ASEAN Tourism Forum on September 11, and the HCMC International Tourism Expo from September 10 to 16.