At a meeting with the Department of Natural Resources and Environment in Ho Chi Minh City on April 16, the People's Committee of Binh Chanh District brought to notice several projects that have been running far behind schedule in Saigon South, the new urban development area.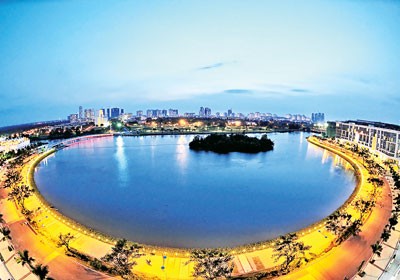 Ban Nguyet (Semicircle) Lake in South Saigon in District 7 (Photo: SGGP)
After inspecting some of the delayed projects set to take off as far back as 2011, government inspectors suggested revoking licenses of five including 13A Residential Area in District 8; 6B and Hanh Phuc or Happy City Residential Area; and the amusement park in Binh Hung Ward of Binh Chanh District.
Regarding this, the City People's Committee had tasked the Management Authority of Southern Area Development (MASD) to look into these issues. However, nothing had been done when the inspectors returned to check in 2012.
The government inspectors then instructed to put an end to the Happy City Project, which has been pending since 2004. The City People's Committee asked for an extension for the project, which was approved by the Prime Minister.
However, so far the investor, Construction Corporation No.1, has completed only 30 percent of the compensation work.
At the meeting, representatives from the Department of Natural Resources and Environment, the investor and MASD again asked for an extension of the deadline for Happy City project and promised to complete site clearance by 2015.
Disregarding this request, Doan Nhat, deputy chairman of the People's Committee of Binh Chanh District, proposed revoking the project because it has hung on for too long, causing inconvenience to local residents.
Besides the above five projects, Saigon South still has several projects which have prolonged for more than ten years with investors still struggling at the first stages of compensation to residents.
Investors of Phong Phu and Him Lam residential areas have already thrown up their hands as they have been unable to go ahead with their projects.
The People's Committee in Binh Chanh District vetoed extension of the deadline for projects where compensation is still half done.  Projects that have completed at least 80 percent of compensation work will be permitted to continue.
The 3,000 hectare Saigon South new urban development area includes Tan Phong and Tan Phu Wards in District 7, Ward 7 in District 8 and An Phu Tay, Phong Phu, Binh Hung and Hung Long Wards in Binh Chanh District.