Sai Gon Giai Phong Newspaper and the Department of Industry and Trade are launching the second Green Consumer Campaign in Ho Chi Minh City today.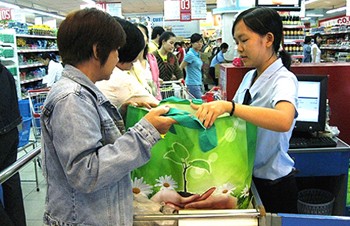 Several customers choose environment friendly bag when shopping at supermarkets in HCMC
The green campaign is meant to compel business houses to become more environment-friendly.
Pham Duc Hien, deputy editor-in-chief of Sai Gon Giai Phong Newspaper said that the campaign has attracted participation from many business houses, organizations and consumers.
This year the campaign has lured over 7,000 volunteers from universities in the city.
Besides sharing information on green products and green companies that are environment friendly, the campaign calls upon youth to only buy products made by business companies that are working towards protection of the environment.
Volunteers have organized activities like bike riding to advertise the campaign, hosting green festivals in residential areas and programs to promote green products by ambassadors for the campaign.
Many discount promotional programs for green products will take place in supermarkets, especially in the Co.op Mart supermarket chain.