On the 34th anniversary of Sai Gon Giai Phong (SGGP), a delegation from the City's municipal government, led by Le Thanh Hai, HCM City Party Committee's Secretary, met with SGGP's editorial board and senior staff on May 5.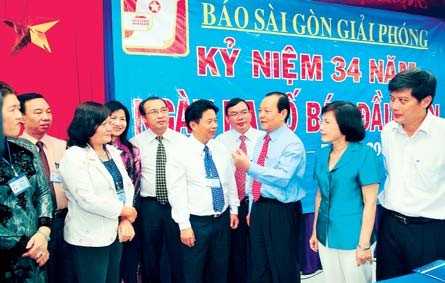 HCM City Party Committee's Secretary Le Thanh Hai (3rd, R) talks with SGGP senior staff. (Photo: SGGP)
Tran The Tuyen, SGGP's editor in chief, reported some remarkable results in recent times and affirmed the paper's steady orientation, guideline goals, praising new models and factors in social life.
Mr. Tuyen said SGGP had begun to implement SGGP's 2009-2015 plan to modernize machinery, and the function and mission of the newspaper.
SGGP will pay special attention to enhancing the quality of publications, develop economic articles, organize social activities, provide modern facilities for staff and enhance training of reporters.
The city's leaders praised SGGP staff for their hard work.
SGGP has worked hard to follow its guiding principles and contributed to public opinion and the city's common development goals.
SGGP's strength lies in its brand and the confidence of its readers in the paper's reporting.
The city's leaders also appreciated the paper's consistent reporting.
The delegation praised correspondents and editors for their experience but said the paper lacked creation, in-depth articles and failed to adequately report areas of social life.
Mr Hai affirmed SGGP accomplishment in providing news on Party resolutions, and State policies and law.
SGGP staff must continue to study, research and improve their professional ethics, he added.
SGGP's mission is not only training professional staff but also providing leaders for other city newspapers, Mr. Hai said.
SGGP has three main functions: propaganda, and reporting economic and social activities. Propaganda is especially important, as it provides information from the Communist Party and demonstrating professional and ethical attitudes.
The delegation included: Le Thanh Hai, Secretary of HCMC Party Committee, Huynh Thi Nhan, deputy secretary of the Party Committee, Nguyen Van Dua, standing deputy secretary of the city Party Committee, Pham Phuong Thao, deputy secretary of the HCMC Party Committee, chairwoman of HCMC People's Council , and Nguyen Thi Thu Ha, deputy chairwoman of HCMC People's Committee.