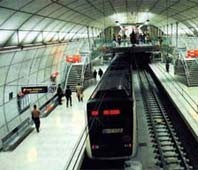 Subway networks are planned in Ho Chi Minh City.
The German Government has pledged to keep supporting Ho Chi Minh City in building two subway routes and is waiting for a report on the project from Viet Nam, Siemens vice president Joern F. Sens has said.
Speaking at a meeting with Ho Chi Minh City Party chief Le Thanh Hai, city mayor Le Hoang Quan and other city leaders on August 2, the visiting Siemens senior executive said the report would be submitted to the German Parliament for approval.
Siemens will undertake two of the city's five planned subway routes. The two subway routes, with the total length of 20.5 kilometers, will cost 800 million euros. The city will cover 30% of the cost and the remainder will come from loans, including 100 million euros in German ODA and 20 million euros in Austrian aid.
Mr. Hai said that Ho Chi Minh City's planned subways are expected to improve traffic in this fast developing municipality.