During a five-day official visit to Vietnam, Singapore President Tony Tan Keng Yam along with his delegation visited Ho Chi Minh City on April 25 and was warmly welcomed by City Party Secretary Le Thanh Hai.
During his talks with President Tony Tan Keng Yam, Secretary Hai commented that the Singapore President's visit to Vietnam was a milestone and brought relations between the two countries to a new height.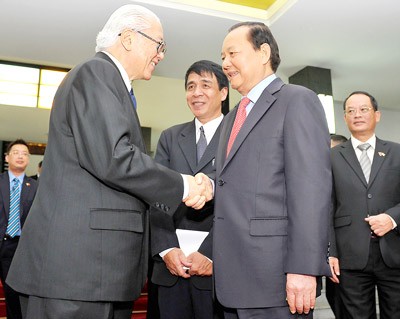 Singapore President Tony Tan Keng Yam is warmly welcomed by City Party Secretary Le Thanh Hai (R).
He hoped the two countries would continue to boost co-operation internationally with the help of APEC and ASEM, as well as the ASEAN Community. He noted that there was huge potential for further co-operation between Ho Chi Minh City and Singapore.
On bilateral co-operation, the two leaders expressed great pleasure in the way Vietnam-Singapore relations have developed in recent years. The two leaders expressed their joy at the development of economic, educational, tourism, investment and trade co-operation between the two countries and between HCMC and Singapore, which have reached great heights and are moving towards a strategic joint relationship.
At present, HCMC occupied one fourth of the FDI in Vietnam, with Singapore being its top investor with over 500 projects and a capital investment of US$ 6 billion.
City Party Secretary Le Thanh Hai also expressed hope that Singapore would share its experiences in metropolis management, human resource development and measures to ease traffic gridlock.
The two leaders agreed to boost co-operation in education and training, construction and agriculture.
The leaders also agreed that regular visits by high-ranking officials had helped deepen ties between the two countries.
President Yam expressed thanks towards HCMC for supporting Singapore's business circles in investments in the City. He spoke highly of HCMC's recent achievements, expressing his belief that the City would harvest greater successes in the economic, financial, scientific and technological sectors in the future.
The Singapore State leader expressed his pleasure in Singaporean businesses that are keen to invest in Vietnam and hoped that Singapore will be Vietnam's top investor and trade partner.
President Yam also promised his willingness to share experiences in metropolis management with HCMC. He affirmed that Singapore at any time was always open for Vietnamese citizens to visit, tour, study and medical care. He took this opportunity to invite HCMC leaders to attend the summit conference of world's biggest cities in Singapore, due to be held in July 2012.
During the Singapore leader's visit to HCMC, Mayor Le Hoang Quan held a banquet in his honour.
On April 26, the delegation visited the Vietnam-Singapore Industrial Park in neighboring Binh Duong Province. President Tony Tan Keng Yam is also expected to pay a courtesy visit to former President Nguyen Minh Triet.
Related article: