Six disabled and disadvantaged couples in Ho Chi Minh City finally got their dream wedding when the Youth Union Committee in District 10 held a group wedding at the Kim Thanh restaurant yesterday.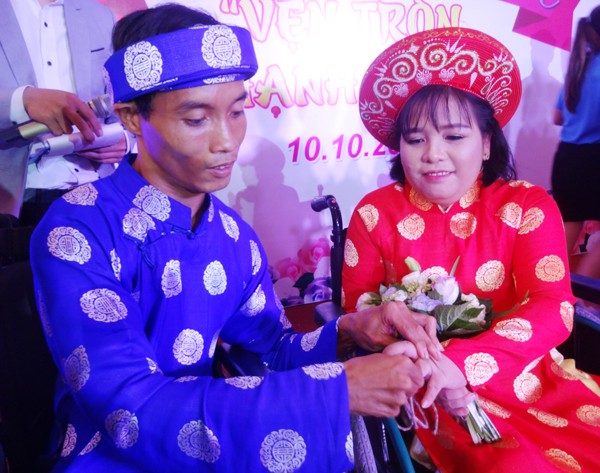 Couple Nguyen Van Bien-Nguyen Kim Cuc at the ceremony (photo: SGGP)
The couples offered incense and flower in the Uncle Ho statue in Ho Chi Minh Museum in District 4.

At the wedding ceremony, the couples were provided wedding rings craved their names, flowers, photography services by the organizers.

Additionally, couple Nguyen Van Bien and Nguyen Kim Cuc, the most difficult disabled couple, was given two wheelchairs.

To help couple Truong Han Long and Khuu Truc Phuong start new life after the weeding, the organizers offered them a sewing machine.

The wedding is aimed to take care of disable and poor couples who are too difficult to hold a wedding. This activity has received assistance of sponsors, benefactors and enterprises in the city.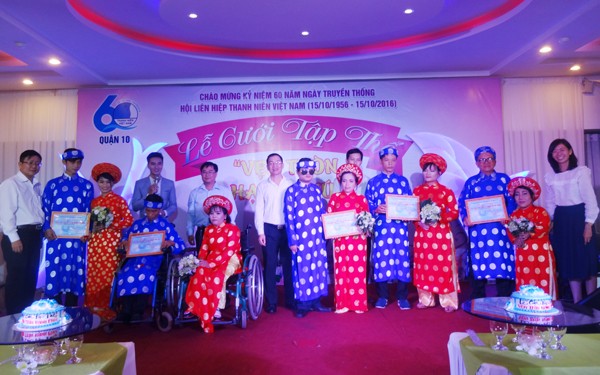 Disabled couples at a group wedding (photo: SGGP)