Slovakian President Ivan Gasparovic highly praised recent achievements of Ho Chi Minh City and also emphasized on strengthening the bilateral cooperation between the two sides as he joined the Vietnam-Slovak Business Forum held on Wednesday.

Speaking at the forum's opening ceremony, the president asserted Slovakian businesses' interest into Ho Chi Minh City and expressed his belief that the two countries' business forum would bring more opportunities for cooperation as well as investment.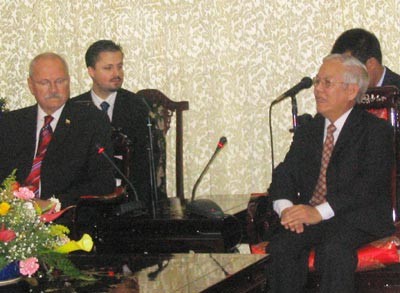 Ho Chi Minh City Chairman Le Hoang Quan holds talks with Slovakian President Ivan Gasparovic
He said the city is moving in the right direction with its current advantages, which has been represented by the city's high growth rate recently. The metropolis will be a very important factor in boosting the partnership between the two countries.

"Slovakia expects not only to maintain the traditional relation with Viet Nam but also look for new trends in cooperation. Taking the success of this visit, the two countries' business community will join hands in all fields including trading, investment, education, science and technology, health and culture," said President Gasparovic.

The visitor joined the opening ceremony of the honorary consulate of Slovakia in Ho Chi Minh City and visited some Vietnamese who used to live and work in his country.

According to the president, the Vietnamese community in Slovakia will play a very important role as a bridge to bring the close relation between the two countries into a new era of development and prosperity.

He stressed that the opening of the honorary consulate demonstrated his country's desire to strengthen cooperation in economy and other fields with the city as well as with other localities in Viet Nam.

On the same day Slovakian President's wife Ivan Gasparovicova visited Nguyen Dinh Chieu School, home to visually-impaired students.
She was moved by a music show performed by the disadvantaged students. "I'd like to share my heart with the teachers here, whose job requires great patience," she said.
"I hope that doctors will care for the visually-impaired children and help improve their eyesight."
She appreciated a program by the Ho Chi Minh City Department of Education that is socializing visually-impaired children by putting them in normal classes with normal students. She said she would bring the experience to her country, where visually-impaired students are not in the same classes with others.
The Slovakian President's lady was also moved with Braille books made by the school's teachers, who also provide the books for other schools for visually-impaired children in Ho Chi Minh City.
She also paid a visit to the Ho Chi Minh City Fine Arts Museum.