As sales soar as usual for the year-end holidays, counterfeits and smuggled goods start to flood the market in Ho Chi Minh City.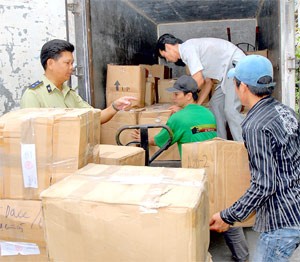 Market Management Unit 3A detects and confiscates smuggled cosmetics at a warehouse in District 6
Products commonly smuggled into Viet Nam include cosmetics, sweets, clothes, fabrics, mobile phones, powdered milk, industrial chemicals, electronics and household appliances. 
Nguyen Hong Lam, head of HCMC Market Management (MM) Unit 2A, said thousands of appliances, motorbike parts and children's appliances currently on offer in the city have dubious origins and labels.
 
Whereas market management units had to urgently check and confiscate illegally imported and fake alcohol during previous year-ends, sweets are their investigation targets this year.
 
Lam's unit has checked 38 warehouses and found six full of unqualified goods. All were in 296 cartons imported illegally from China, out of date, some degenerated and having their wrappings in tatters.
 
Among 18 warehouses checked by the MM Unit 5A, three warehouses stored cookies that were three to nine month older than their expiry dates, including 141 boxes of Yethibao cookies, 650 boxes of Kidsie sweets, 250 boxes of Xilimen Cracxer cookies, 171 boxes of corn candies, 21 boxes of Luraibrand chewing gum, 77 boxes of wafer biscuits, and 240 kilograms of chestnuts.
 
According to the Ho Chi Minh City MM Department's preliminary statistics, nearly 15 tons of sweets either without expiry dates or beyond their expiry dates have been detected and impounded.
 
Most of unqualified sweets available in HCMC were imported from China. But there are also lots of out-of-date cookies made in Thailand and Malaysia as well. There is even a company trading only in out-of-date sweets from Thailand.
 
On December 18, the Unit 5A caught a container truck unloading smuggled Japanese hair-removing creams and Chinese make-up powder without expiry dates in Tan Phu District.
 
A day later, the unit discovered another truck full of contraband at the same location, including 22 carton boxes of Yierhao cleanser, ten boxes of Chinese moisturizing cream, and 118 boxes of sweets.
 
On December 26, the MM Unit 3A found out thousands of cosmetic items illegally imported from Britain, South Korea and Malaysia at a warehouse in District 6.
 
A market management official said 80-90 percent of cosmetics being sold at Kim Bien and Binh Tay markets are fakes and their prices are only one-fifth of genuine products.
 
After checking 20 warehouses in District 6, the MM Unit 2A discovered over 50 tons of powered milk and cocoa powder of unknown origin on December 26.
 
The MM units have also found fake air conditioners and electronic products on the market.
 
Duong Thanh Hoang, Deputy Head of the HCMC MM Department, said that from now to the Lunar New Year, the department will be tightly monitoring goods which may have an impact on consumers' health, like alcohol, soft drinks, processed foods and medicine.
 
However, consumers also have to protect themselves. They should buy goods at prestigious shops and check expiry dates before buying.