The Social Insurance Agency and Districts in Ho Chi Minh City have sued 19 businesses for defaulting on social insurance payments.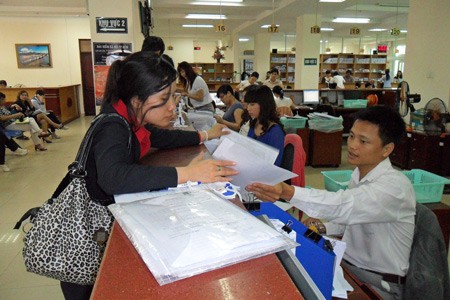 A business representative (L) making payment at the Ho Chi Minh City Social Insurance Agency (Photo: SGGP)
The social insurance division in District 3 has sued six businesses for defaulting on VND1.7 billion; Binh Tan District has taken action against five businesses to recover VND3 billion and District 5 has sued two businesses for VND3.8 billion.
 
Nguyen Trong Nam from the Social Insurance Agency in HCMC said the situation was both difficult and tricky as the businesses concerned had mortgaged all their properties to avail of bank loans.
He added that in 2011, six businesses had cleared VND5 billion and eight others had paid VND614 million, which was part of the normal terms of the loan.