Ho Chi Minh City will need at least US$22-30 billion to upgrade the country's infrastructure. Funding for infrastructure development is proposed to be taken from foreign investors, mainly from Official Development Assistance (ODA), and bonds. Meanwhile, many potential local investors are wiling to pour their money in the projects if the city has clear policies.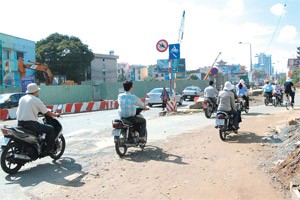 Many local enterprises are willing to pour their money in HCMC's infrastructure construction
For the time being, some US$8 billion is needed for 100 urgent projects in the city.
 
In a report submitted to the Prime Minister, Nguyen Huu Tin, vice chairman of HCMC People's Committee, said the 100 projects, which will be implemented from now to 2010, include 74 bridges, 9 parking lots and 15 intersections. 
 
The city's budget can afford only 7% of the projects' total needed capital, the remaining has to be raised from other sources, the report said.
 
Seeking for ODA funds is essential but not easy. In reality, many projects financed by ODA have been implemented more slowly than scheduled.
 
Some other solutions to generating capital for projects are bond issuance and build-operate-transfer (BOT). Developing the stock market is also said to be the most effective fund.
 
Local investors are very interested in and ready to pour their money into infrastructure projects if the city has clear and equal investment polices and environment.
 
Some said the city's authorities have blamed their delay in solving alarming traffic jams and accidents in the city on the lack of funding, but in reality, local potential investors have lots of money.
 
Dang Thanh Tam, chairman of the Sai Gon Invest Group's (SIG) Management Board, has told at a press meeting that local enterprises are having lots of leftover money and don't know where to invest it so that they are willing to pour in the city's transport infrastructure.
 
The local investors suggested the city exchanging land for infrastructure construction and should put land out to tender for all local investors to take part in.
 
The city is having at least 20 plots of "gold" land in the center, some of which have recently been handed to corporations to use without tender and that has upset others.