The HCMC Department of Natural Resources and Environment (DoNRE) yesterday held a seminar focusing on protecting the Saigon River as a safe supply of water for people's daily living.
Delegates at the seminar pointed out that the main culprits of the river's contamination are waste pumped into the river from industrial parks (IPs) in Binh Duong, Tay Ninh and Ho Chi Minh City or dumped by the people living along the river banks into the river every day.
Reports at the seminar revealed that the seven newly-established industrial zones in Binh Duong pump 20,200 cubic meters of waste daily into the Thi Tinh River, which eventually flows into the Saigon River. In Tay Ninh Province, nearly 40 factories and plants pump untreated waste into the river every day.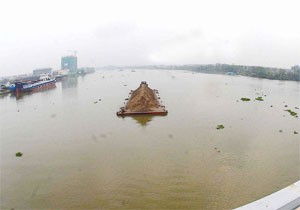 A section of the Saigon River running through Binh Thanh District
As for Ho Chi Minh City, tests carried out by the City Preventive Health Center indicated a number of industrial parks like Tan Quy and Tan Phu Trung in Cu Chi District still dump their untreated waste into the river due to high contamination levels of water near these IPs.

Recent tests found the concentration of Manganese were 4 times higher than average 2005 and 2006 levels, and ammonia levels were 40 times higher.

The river water's current microbe rates are ranging from 23,000 to 240,000 microbes per 100 milliliters, far beyond the regulatory limit of 5,000 microbes/100ml set for water used for daily living.

Speaking at seminar, Nguyen Van Phuoc, Deputy Director of the HCMC DoNR, stressed solutions to reduce the pollution of the Saigon River must be found by the first quarter of 2008 to ensure a safe supply for city dwellers. 
Measures proposed to save the river include not allowing factories and plants that do not have their own waste treatment systems to be built in the river valley. 
Phuoc also directed the HCMC Environmental Protection Agency to coordinate with a group doing research on solutions to protect the Saigon River led by Professor Lam Minh Triet, Director of the Water and Environmental Technology Institute. The group is developing a detailed scheme for preventing the dumping of untreated waste into the river.
The Saigon River valley covers an area of 4.717 square kilometers running through the provinces of Tay Ninh, Binh Duong and Binh Phuoc and Ho Chi Minh City. The river has long played an important role in the city's socio-economic development as its prime water source via the Tan Hiep Waterworks, which supplies some 300,000 cubic meters of water for the city's consumption everyday.