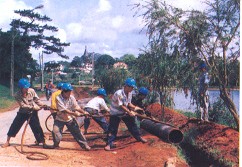 Laying water pipes in Ho Chi Minh City
Two French experts hired to investigate the long-standing problem of contaminated tap water in Ho Chi Minh City delivered their findings yesterday.
According to their written report, iron is leaking into the water because the protective cover of the pipes is eroded.
The high concentration of manganese is caused by the high level of manganese in the Sai Gon River, where the water comes from.
They suggest the city government prevent manganese from entering the river in the first place, renew the city's underground pipes, and speed up the flow of water through the pipes, as the level of turbidity depends on the water speed.
In response, Vice Chairman Nguyen Van Dua of the Ho Chi Minh City People's Committee has instructed the Saigon Water Supply Corporation to study the experts' findings and fix the problem.
Related Article: