The Saigon Building and Marin Industry Company (Saigon Shipmarin) launched its first bulk carrier, the Shipmarin Star.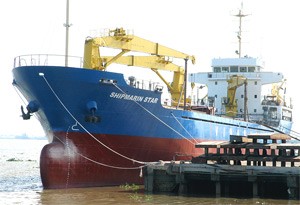 Shipmarin Star had its first debut on December 10

The 6,800-ton Shipmarin Star, which made its debut on December 10, has dimensions of some 103x17x9 meters, horsepower of 3,600 revolutions per minute, and a waterline of 7.2 meters.

This was the first time the Shipmarin has launched a carrier to transport unpackaged bulk cargo.

This "bulker" is fitted with modern facilities and large hatchways in accordance with international marine conventions to meet all requirements of international ports.

The ship was designed by Viet Nam's Institute of Ship Science and Technology.