The southern provinces of Vietnam produce upto 14 varieties of  fruits over 408,300 hectares of land, but have yet to fully develop fruit cultivation, said Pham Van Du, deputy head of the Cultivation Department.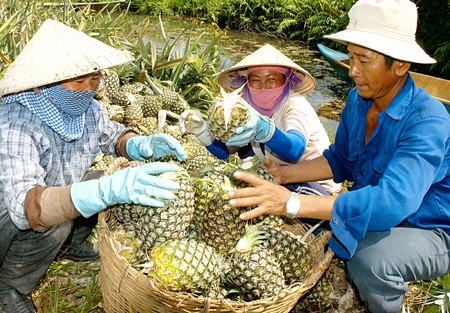 Farmers harvest pineapples in Binh Chanh District (Photo:SGGP)
All the southern provinces enjoy a good climate and fertile soil, making them ideal locations for developing into fruit orchards. In recent years, orchards areas have increased as well as output and variety of fruits.
However, the region faces many shortcomings which it has to overcome. For instance, small scale orchards are plentiful and scattered across the region, which is leading to inconsistent quality and problems in marketing.
Du said that though fruit farmers in the southern provinces can meet the market requirements, they still face problems with having such small-scale orchards that are sparsely scattered, lack global competing standards and have almost no co-ordination with marketing companies.
The provinces should adopt standards set by Vietnamese Good Farming Practices (Viet Gap), to fulfill export requirements, he added.

In recent years, fruit output has increased significantly in terms of cultivable areas and number of varieties. Many provinces can now supply different kinds of fruits almost all year round, such as durian, water melon, grapefruit and dragon fruit.

Many indigenous fruits of the region, such as Ri 6 durian, Lo Ren star apple, Hoa Loc mango, Chu mango, Cho Gao dragon fruit, small-seeded longan and green-skinned pomelo are cultivated in abundance here.

To develop fruit orchards in the region, farmers need to co-operate in developing larger fruit growing areas and secure the market collectively for their produce.

To increase fruit exports, localities need to set up fruit cultivable areas, each specialising in one variety of fruit so as to fulfill large export contracts and adopt Global Good Agricultural Practices.

Many southern provinces have a particular strength in growing fruits like the dragon fruit in Binh Thuan Province, bananas in Kien Giang Province and mangoes in An Giang Province.