The state-owned industry sector in Ho Chi Minh City reported big increases in production this year following a slowdown in 2006, while both non-state and foreign-invested sectors ran out of their steam.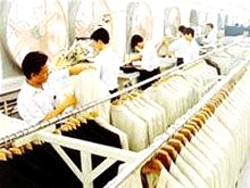 HCMC's garment production rises by 15.9 percent this year
The state-owned sector produced nearly VND211 trillion (around US$13.18 billion) worth of industrial products in the year, registered a rise of more than 11 percent from 2006.
The centrally-run state-owned enterprises contributed more than VND61.9 trillion (US$3.8 million), up 8.7 percent and the locally-run state-owned enterprises, over VND18.8 trillion (US$1.2 million), up 9.2 percent. The enterprises suffered from decreases of 1.5 percent and 0.8 percent last year, respectively.
Meanwhile, the non-state and foreign-invested sectors registered increases of 13 percent and 19.3 percent this year, as compared with 23.7 percent and 20 percent in 2006, respectively.
Twenty-five of the city's 27 industries reported rise in production value, including electric equipment (29.7 percent), chemicals (16.3 percent), garment (15.9 percent), rubber and plastics (15.2 percent) and beverage (9.4 percent).
Experts cited technical barriers imposed on aquatic exports, anti-dumping lawsuits against footwear and price hike as the main difficulties facing industrial enterprises during the year.