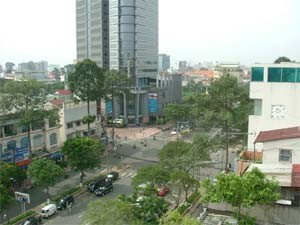 View of Ho Chi Minh City (Photo: Hoang Uy)

The chairman of the Ho Chi Minh City People's Committee, Le Hoang Quan, held a working session with representatives from the city's state-run companies established under Decrees 90-91 yesterday discussing the ways to achieve the city's 2006 GDP target of a 12.5 percent increase.
Representatives explained that many sectors, notably industry, have grown at a very slow rate this year because dozens of state-owned companies are being relocated as their production has contaminated nearby residential areas.
While the state's funding for removal has been quite high, endless red tape and the recently surging price of building materials created large problems for these companies' relocation.
Aside from that, an influx of counterfeit and smuggled goods has infested and paralyzed the local market.
In response, representatives of the state-run companies appealed for the chairman's and related parties' help in curbing the counterfeit and smuggled goods, as well as simplifying the countless administrative formalities.
Suitable polices to bolster the development of travel, transport, trade and telecommunications were also strongly desired by the representatives.