Ho Chi Minh City has organized many activities for the anniversary of the Hung Kings' death, which this year falls on April 26, to honor the nation's legendary founders and remind the Vietnamese people of their origins and national identity.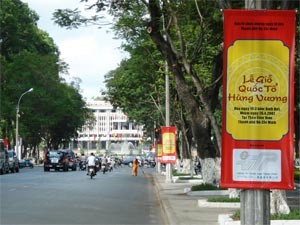 One of historical posters along Le Duan Street (Photo: Hoang Uy)
Among them are the many historical posters and banners along the city's streets.
On each poster is a brief word about the life and achievements of a Vietnamese king, from the Hung Dynasty that ruled over Van Lang (now Viet Nam) for 18 generations to the Dinh, Le, Ly, Tran and Nguyen dynasties.
There are also brief mentions of heroes who gave their lives for the motherland.
Many residents and visitors stop to read the posters.
When asked to comment, one inhabitant says that teaching history to the people, especially the younger generations, this way really works because no one feels constrained.
An overseas Vietnamese finds the posters interesting because they bring back what he learned in his school days.
The posters have also been praised by Professor Tran Van Khe, a master of traditional Vietnamese music.
He reckons this way of teaching helps city people young and old acquire a basic knowledge of history and fosters their national spirit.
The public posters are one of the activities for the "Toward National Origin on the Anniversary Day of the Hung Kings' Death" campaign that the Tam Diem Communications Company is running from April 20 to May 1.