A major Ho Chi Minh City market supplier has allayed fears that vegetables sold in the city are contaminated by toxins, saying supplying safe products is his company's responsibility.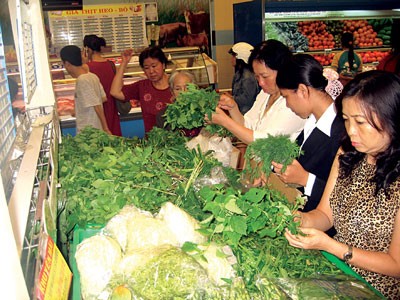 Consumers buys vegetables at Co-opMart in HCMC's District 3 (Photo:SGGP)
Tran Vinh Quang, deputy director of Vissan Limited Company, said before signing a contract with farmers or companies in Da Lat, which is famous for green vegetables, company officials make quality checks to assure the safety of the products.
The company supplies 18-20 tons of vegetables, including to major customers like Co-opMart, CitiMart, FiviMart, Big C, Metro, large hospitals like Heart Institute, Pediatric hospital 2, Trieu Anh, organizations, schools and academic institutions.
During Tet next month, the company hopes to supply around 2,000 tons of vegetables and 132 tons of fruits.
Bui Hanh Thu, deputy director of Sai Gon Co-op, which runs retail chain Co-opMart, assured that the fresh food sold in the city, including vegetables and fruits, are safe. Suppliers must have certificates of safety and hygiene issued by responsible agencies, she explained.
Besides, each outlet of her supermarket has its own food quality inspection teams to make surprise checks for pesticide residues, she said.

Co-opMart gets certificates of food safety and hygiene from the Department of Health and recently set up a managing board for vegetables and fruits comprising of scientists and experts in the field.