Twenty-one workers were serious burned when an explosion rocked a Tan Tan Thanh Company chemical storehouse Ho Chi Minh City June 17.
The explosion caused a fire that burned seven motorbikes and one bicycle at a restaurant located opposite the company in Tan Thoi Nhat Ward, District 12.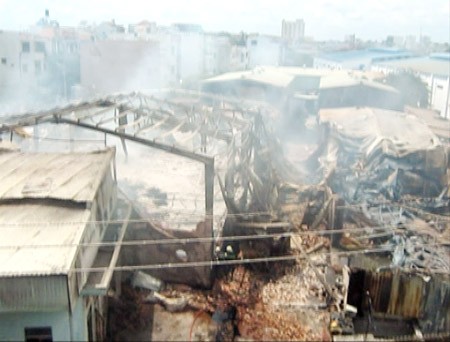 A view of a chemical storehouse burned to the ground after an explosion at Tan Tan Thanh Company on June 17. (Photo:SGGP)
Residents said they first heard a massive explosion at the warehouse before several more large explosions followed.
The blast also caused damage to several nearby residential and commercial buildings.
The blast occurred as tens of workers were on duty at the facility. The fire swiftly spread and destroyed the company's entire 3,000 square-meter property.
Eight fire trucks with nearly 100 fire fighters put the blaze under control, but one fireman fainted during the operation.
The cause of the blast is under investigation.
In related news, an accident left three dead at 10 pm on June 16 at the Son La Hydroelectric Power Plant's construction site, said a representative from the plant's management board.
The accident occurred when one side of the construction site's 22-meter scaffolding collapsed as ten workers dismantled it. Six workers fell off the structure as it collapsed.
Three dead included Lo Van Ha,23; Lo Van May, 23 and Mac Dinh Toan, 22. Three injured workers are under treatment at a local hospital.
Police are investigating the cause of the accident.